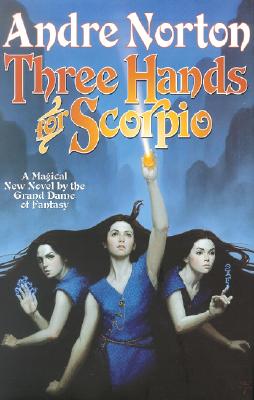 Three Hands for Scorpio (Hardcover)
Tor Books, 9780765304643, 304pp.
Publication Date: March 31, 2005
* Individual store prices may vary.
or
Not Currently Available for Direct Purchase
Description
Andre Norton, the celebrated author of Witch World and many other fantasy adventures, offers a new novel unique among her works, set in a realm not dissimilar to northern England in the sixteenth century: also, the Dismals of Northern Alabama are the model for part of the exotic setting.

Drucilla, Sabina, and Tamara, identical sisters born to Desmond, Earl of Skorpys, understand the price of being princesses in a realm bordered by fractious neighbors. For generations their land has been plagued by incursions, raiding parties, and more serious conflicts with Gurlyon, the land to their North. But when these three plucky young ladies are kidnapped as part of a plot to undermine their father's domain, they are taken to a mysterious realm where they experience terrors unlike anything they could imagine.

Their captors, fearing pursuit, thrust the princesses into a deep recess in a bizarre underworld called the Dismals. Once there, they must fend off hideous creatures, and a young man who claims to be lord of this dark, forbidding realm. Not sure whether he is friend or foe, they must depend on their wits, on each other, and on the mind-link that binds them together. Only thus can they escape the bizarre nether-realm they must roam in search of a way home.

Their travails test them in ways they cannot foresee, both physically and magically. Powerful forces work against them, but together they may yet escape, and help right the wrong that brought them to the strange realm in the first place.
About the Author
For well over a half century, Andre Norton has been one of the most popular science fiction and fantasy authors in the world. Since her first SF novels were published in the 1940s, her adventure SF has enthralled readers young and old. With series such as" Time Traders, Solar Queen, Forerunner, Beast Master, Crosstime, "and "Janus," as well as many stand-alone novels, her tales of action and adventure throughout the galaxy have drawn countless readers to science fiction.

Her fantasy, including the best-selling "Witch World" series, her "Magic" series, and many other unrelated novels, has been popular with readers for decades. Lauded as a Grand Master by the Science Fiction Writers of America, she is the recipient of a Life Achievement Award from the World Fantasy Convention. Not only have her books been enormously popular; she also has inspired several generations of SF and fantasy writers, especially many talented women writers who have followed in her footsteps. In the past two decades she has worked with other writers on a number of novels. Most notable among these are collaborations with Mercedes Lackey, the "Halfblood Chronicles, " as well as collaborations with A.C. Crispin (in the "Witch World" series) and Sherwood Smith (in the "Time Traders "and "Solar Queen "series). An Ohio native, Ms. Norton lived for a number of years in Winter Park, Florida, and now makes her home in Murfreesboro, Tennessee, where she continues to write.
Praise For Three Hands for Scorpio…
"A superb storyteller with a narrative pace all her own."
--The New York Times

"One of the most distinguished living SF and fantasy writers."
--Booklist

"She remains one of the most underrated masters of science fiction and fantasy."
--Minneapolis Star-Tribune

"In giving us amazing stories, she serves as an ongoing inspiration for more than one generation of fantasy writers."
--Mercedes Lackey

"I've seen a complete collection of Andre Norton's books and it haunts me to this day, sort of like the sight of an unscalable Everest."
--C.J. Cherryh
Advertisement