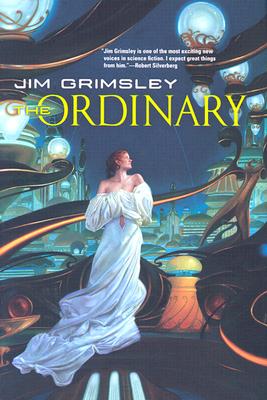 The Ordinary (Hardcover)
Tor Books, 9780765305282, 368pp.
Publication Date: September 15, 2005
* Individual store prices may vary.
or
Not Currently Available for Direct Purchase
Description
Jim Grimsley's novels and short stories have been favorably compared to the works of Samuel R. Delany, Jack Vance, and Ursula K. Le Guin. Now he unleashes an ambitious and audacious collision between science and magic.

The Twil Gate links two very different realms. On one side of the portal is Senal, an advanced technological civilization of some thirty billion inhabitants, all cybernetically linked and at war with machine intelligences many light-years away. On the other side is Irion, a land of myth and legend, where the world is flat and mighty wizards once ruled.

Jedda Martele is a linguist and trader from Senal. Although fascinated by the languages and cultures of Irion, she shares her people's assumption that Irion is backward and superstitious and no match for her homeland's superior numbers and technology. But as the two realms march inevitably toward war, Jedda finds herself at the center of historic, unimaginable events that will challenge everything she has ever believed about the world---and herself.

The Ordinary is a powerful and entrancing tale of magic, science, and the mysterious truth that binds them together.
About the Author
Jim Grimsley is the author of the acclaimed fantasy novel "Kirith Kirin," which won the 2000 Lambda Literary Award for science fiction and fantasy. His short stories have appeared in "Asimov's Science Fiction" magazine and "The Year's Best Science Fiction." He is the award-winning author of "Winter Birds," "Dream Boy," "My Drowning," "Comfort and Joy," and "Boulevard," as well a number of successful plays.

Grimsley lives in Atlanta.
Praise For The Ordinary…
"Jim Grimsley is one of the most exciting new voices in science fiction. I expect great things from him."
---Robert Silverberg

"An audacious, ambitious, and highly literate author with a unique, inventive, and exotic vision of the future, and a profound understanding of the human heart."
---Gardner Dozois, editor of The Year's Best Science Fiction anthologies

"Readers will find themselves immersed in a vivid story at once intensely human and imaginatively mind-stretching. In fact, I can't recall another novel since Ursula Le Guin's classic The Left Hand of Darkness that clicks on so many cylinders in its characterization or spins so many rich and variegated narrative webs. An outright triumph."
---Michael Bishop

"Grimsley's descriptive density, intimate grasp of social textures, and spiritual insight, reminiscent at times of Vance and Le Guin, are maturing into a formidable authorial palette."
---Locus

"Grimsley writes lucidly and well."
---People




"A beautifully developed spirituality, a compelling love story, mak[e] it a quiet sort of page-turner elegantly evoking fascination and wonder."

-Paula Luedtke


"Unlike many 'literary' authors who fail when they write SF, Grimsley has the necessary world-building skills to shine brightly here."



"An important novel. . . . Think of high-quality anthropological SF where antithetical societies meet, as in Le Guin's The Left Hand of Darkness."

-Faren Miller


"By bringing two alien worlds together, [Grimsley] brings them both to us. It is a gift of unearthly power."

-Michael Alec Rose


"A story that will appeal to both diehard fantasy and science fiction readers, which makes it quite an accomplishment."



"Grimsley's novel is extraordinary in all worlds."

-Paul Di Filippo


"An outright triumph."
Advertisement