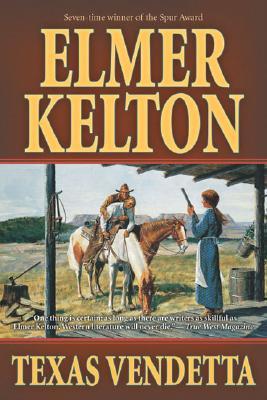 Texas Vendetta (Hardcover)
Forge Books, 9780765305725, 304pp.
Publication Date: January 27, 2005
Other Editions of This Title:
Mass Market Paperbound (3/27/2012)
* Individual store prices may vary.
Description
Ranger privates Andy Pickard, the onetime Comanche captive called Badger Boy, and the war-anguished Farley Brackett, are assigned to deliver a prisoner to the sheriff of a county some distance from the ranger camp on the San Saba River. The prisoner, Jayce Landon, has recently killed a man named Ned Hopper and is to stand trial for murder.
The rangers quickly learn that the Landon and Hopper families are involved in a blood feud and that Jayce Landon is the target of both clans: the Landons want to rescue him and the Hoppers want to kill him. Worse, Jayce is to be delivered, jailed, and tried for murder in Hopper's Crossing, a settlement owned, populated, and run by the family dedicated to killing Jayce and all his Landon kin.
The young rangers soon encounter the main figures in the hate-filled Hopper clan -Big'un, a huge lout who is deputy sheriff at Hopper's Crossing, and Judd Hopper, county judge and patriarch of the family. And when Jayce escapes, hell breaks loose with the rangers caught between the warring factions.
Andy Pickard, reunited with his old mentor, retired ranger Rusty Shannon, has another problem or two to deal with. He is worried about Scooter Tennyson, a young son of an outlaw who has been "adopted" by the rangers at their San Saba River camp and who earns his way as a cook's helper. Scooter's father, now released from prison, has come to take his son back-and into a life on the run. And Andy has a growing affection for Bethel Brackett, sister of his worrisome partner, Farley.
Texas Vendetta, fifth in Elmer Kelton's memorable and critically acclaimed Texas Rangers series, is filled with the author's always engaging characters and is set against the historically accurate backdrop of the turmoil of post-Civil War Texas.
About the Author
Elmer Kelton, author of more than forty novels, grew up on a ranch near Crane, Texas, and earned a journalism degree from the University of Texas. His first novel, "Hot Iron," was published in 1956. For forty-two years he had a parallel career in agricultural journalism.

Among his awards have been seven Spurs from Western Writers of America and four Western Heritage awards from the National Cowboy Hall of Fame. Among his best-known works have been "The Time It Never Rained "and" The Good Old Boys," the latter made into a television film starring Tommy Lee Jones.

He served in the infantry in World War II. He and his wife, Ann, a native of Austria, live in San Angelo, Texas. They have three children, four grandchildren and five great-grandchildren.
or
Not Currently Available for Direct Purchase