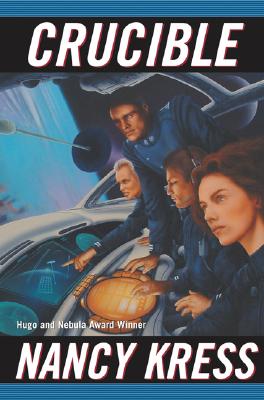 Crucible
Hardcover

* Individual store prices may vary.
Description
Nancy Kress made her reputation in the early 90s with her multiple award-winning novella, "Beggars in Spain," which became the basis for her extremely successful Beggars Trilogy (comprising Beggars in Spain, Beggars and Choosers, and Beggars Ride). Since then she has written over a dozen novels, including the well-received Probability Trilogy, culminating in Probability Space, which garnered her the John W. Campbell Memorial Award for Best SF Novel.

Now comes a brand new science fiction epic.
It began with Crossfire: a far-future novel of planetary colonization and alien first contact. Jake Holman, a man trying to escape a dark past, brought together a diverse group of thousands to settle on a new world. But instead the humans found themselves caught in the crossfire of a galaxy-spanning war between two disparate species: agressive, militaristic humanoids known as Furs and passive, plantlike creatures known as Vines.

Having cast their lots with the peaceful Vines, humanity faces all-out war against the technologically superior Furs. Our only hope? A virus designed by the Vines to remove all aggressiveness from the Furs. Can it spread fast enough to save not only Holman's colony, but the rest of humanity? And at what price to the Furs?

Driven by strong ideas and deep moral questions, and peopled with real-as-life characters, Crucible shows Kress at the top of her form, amply demonstrating why she has been one of science fiction finest authors of the past twenty years.
Praise For Crucible…
Praise for Crossfire:
*"Life-sized characters with personal and cosmic preoccupations, tense and knotty plotting, and Kress's usual abundance of ideas: gripping, challenging work, a reassuring return to top form."--Kirkus Reviews starred review

"A satisfying thought experiment in science and philosophy. . . . Fans of serious SF will enjoy this tale of bravery, travel, adventure, and personal and social crisis."--Publishers Weekly

"In this latest thrilling offering by Kress, world-building and character development are flawlessly executed in a thought-provoking conjunction of passivity and morality."--Romantic Times Book Club

"Kress's aliens are convincing, and her colonists are all fascinating, developed individuals. The New Quakers embody their tenets: truth, simplicity, silence, and conscience. Dr. William Shipley, an aged, overweight, troubled father and New Quaker, is the moral center of the book. Together with colony leader Jake Holman, a troubled exec who bankrolled the colony with embezzled funds, the doctor determines the furure of both alien species and humanity as well. This thought-provoking book is highly recommended for high school libraries and young adult collections in public libraries."-VOYA

"Kress operates up to her usual high standards, and she also makes ethical dilemmas as gripping as laser fights and the results of human-alien conflict rather than depend on which human contacts which alien. Choice stuff."--Booklist
Tor Books, 9780765306883, 384pp.
Publication Date: May 26, 2005
About the Author
Nancy Kress was born and raised in upstate New York, where she spent most of her childhood either reading or playing in the woods. She earned a bachelor's and master's degree in education, as well as an M.A. in English. While she was pregnant with the second of her two sons, she started writing fiction. She had never planned on becoming a writer, but staying at home full-time with infants left her time to experiment.

In 1990 she went full-time as an SF writer. The first thing she wrote in this new status was the novella version of "Beggars In Spain," which won both the Hugo and the Nebula Award. She is the author of more than twenty books, including more than a dozen novels of science fiction and fantasy, as well as three story collections, and two books on writing. Of her most recent novels, "Probability Space "(Tor, 2002) won the John W. Campbell Award for Best SF novel. Her short fiction has appeared in all the usual places, garnering her one Hugo and three Nebula Awards. Her work has been translated into Swedish, French, German, Italian, Spanish, Polish, Japanese, Croatian, Lithuanian, Romanian, Greek, Hebrew, and Russian. She is also the monthly "Fiction" columnist for "Writer's Digest Magazine" and she teaches writing regularly at various places, including Clarion and The Writing Center in Bethesda, Maryland. She currently resides in Rochester, New York.
or
Not Currently Available for Direct Purchase