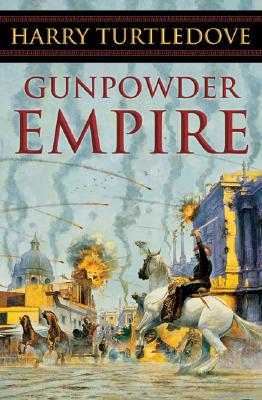 Gunpowder Empire (Hardcover)
Tor Books, 9780765306937, 288pp.
Publication Date: December 1, 2003
Other Editions of This Title:
Mass Market Paperbound (10/1/2004)
* Individual store prices may vary.
Description
Jeremy Solter is a teenager growing up in the late 21st century. During the school year, his family lives in Southern California--but during the summer the whole family lives and works on the frontier of the Roman Empire. Not the Roman Empire that fell centuries ago, but a Roman Empire that never fell: a parallel timeline, one of an infinity of possible worlds.
For in our timeline, we now have the technology to move among these. Some are uninhabitable; some are ghastly, such as the one where Germany won World War II. But many are full of resources and raw materials that our world can use. So we send traders and
businesspeople--but to keep the secret of crosstime traffic to ourselves, these traders are trained, in whole-family groups, to pass as natives.

But when Jeremy's mother gets sick--really sick, the kind you can't cure with antibiotics. Both parents duck out through the gateway for a quick visit to the doctor. But while they're gone, the gateways stop working. So do the communications links to their home timeline. The kids are on their own, and things are looking bad. The Lietuvans are invading. The city is besieged. The kids are doing their best to carry on business and act like everything's normal, but there's only so much you can do when cannonballs are crashing through your roof.
And in the meantime, the city government has gotten suspicious, and is demanding a *full* report on how their family does business, where they get their superior merchandise, why they want all that wheat ...exactly the questions they don't want to answer.
About the Author
Harry Turtledove is the Hugo-winning author of many SF and fantasy novels. His alternate-history novels, include the bestselling "The Guns of the South, How Few Remain, " the Worldwar series, and the recent" Ruled Britannia." He lives with his wife and daughters in Los Angeles.
Praise For Gunpowder Empire…
"One of alternate history's authentic modern masters." ---Booklist

"Turtledove has proved he can divert his readers to astonishing places... I know I'd follow his imagination almost anywhere." ---San Jose Mercury News
or
Not Currently Available for Direct Purchase