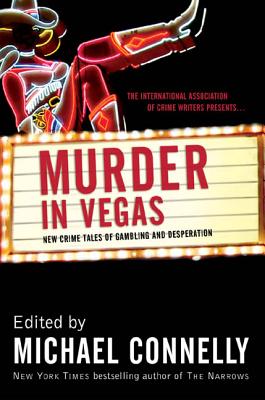 Murder in Vegas
New Crime Tales of Gambling and Desperation
Paperback

* Individual store prices may vary.
Other Editions of This Title:
Mass Market Paperbound (4/4/2006)
Hardcover (2/10/2005)
MP3 CD (12/17/2013)
Compact Disc (6/15/2010)
Compact Disc (4/1/2014)
MP3 CD (12/30/2014)
Compact Disc (12/30/2014)
Compact Disc (6/15/2010)
MP3 CD (6/1/2010)
MP3 CD (6/15/2010)
Description
Las Vegas. Lost Wages. Sin City. An artificial oasis of pleasure, spectacle, and entertainment, the gambling capital of America has reinvented itself so many times that it's doubtful that anyone knows for sure what's real and what isn't in the miles of neon and scorching heat. Las Vegas is considered the ultimate players destination-no matter what your game. Almost anything is available-for a price, mind you, and sometimes losers walk away from the tables with even less than just an empty wallet or purse-sometimes they don't walk away at all.

Now the International Association of Crime Writers and New York Times-bestselling author Michael Connelly have gathered twenty-two crime and mystery stories about the ultimate playground, Las Vegas, and what can happen behind the glitz and glamour. From a gambler who must win at the roulette table to stay alive, to a courier who's only mistake was accepting a package with Las Vegas as the final destination, come to the true city that never sleeps, where fortunes are made and lost every day, and where snake-eyes aren't found just on a pair of dice.

Murder in Vegas features stories by: James Swain, S.J. Rozan, Wendy Hornsby, Michael Collins, T.P Keating, J. Madison Davis, Sue Pike, Joan Richter, Libby Hellmann, Tom Savage, Edward Wellen, K.j.a. Wishnia, Linda Kerslake, John Wessel, Lise McClendon, Ronnie Klaskin, Ruth Cavin, A.B. Robbins , Gay Toltl Kinman, Micki Marz, Rick Mofina, Jeremiah Healy
Praise For Murder in Vegas: New Crime Tales of Gambling and Desperation…
"This series can be counted on to showcase the best of mainstream crime fiction." —Booklist on The Best American Mystery Stories 2003, edited by Michael Connelly and Otto Penzler

"The Narrows, Michael Connelly's best crime novel since City of Bones, unfolds within his increasingly seductive world. ... The Narrows is so enveloping that it may send readers back to the early lives of these characters. " —The New York Times

"Mr. Connelly's terrific 14th novel...a suspenseful book marked by flashes of insight and moments of pathos, as well as by dry wit and graceful prose." —Wall Street Journal on The Narrows

"This is scarifying in a big way--a Thomas Harris kind of scary, which is high praise indeed." —Stephen King, Entertainment Weekly on The Narrows

"Connelly is a master and this novel is yet another of his masterpieces." —Publishers Weekly on The Narrows
Forge Books, 9780765307408, 352pp.
Publication Date: March 1, 2005
About the Author
Michael Connelly was a police reporter for the Los Angeles Times and is the author of the bestselling Harry Bosch novels, including The Last Coyote, A Darkness More Than Night, City of Bones, and Lost Light, and the bestselling novels The Poet, Chasing the Dime, Blood Work, and Void Moon. Connelly has won numerous awards for his journalism and novels, including an Edgar Award, a Nero Wolf Prize, a Macavity Award, and an Anthony Award. He was also a Pulitzer Prize finalist for feature writing in 1987.