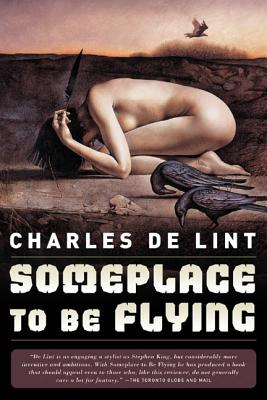 Someplace to Be Flying (Newford) (Paperback)
Orb Books, 9780765307576, 384pp.
Publication Date: August 1, 2005
* Individual store prices may vary.
Description
Lily is a photojournalist in search of the "animal people" who supposedly haunt the city's darkest slums. Hank is a slumdweller who knows the bad streets all too well. One night, in a brutal incident, their two lives collide--uptown Lily and downtown Hank, each with a quest and a role to play in the secret drama of the city's oldest inhabitants.
For the animal people walk among us. Native Americans call them the First People, but they have never left, and they claim the city for their own.
Not only have Hank and Lily stumbled onto a secret, they've stumbled into a war. And in this battle for the city's soul, nothing is quite as it appears.
About the Author
Charles de Lint and his wife, the artist MaryAnn Harris, live in Ottawa, Ontario, Canada. His evocative novels, including Moonheart, Forests of the Heart, and The Onion Girl, have earned him a devoted following and critical acclaim as a master of contemporary magical fiction in the manner of storytellers like John Crowley, Jonathan Carroll, Alice Hoffman, Ray Bradbury, and Isabel Allende.
Praise For Someplace to Be Flying (Newford)…
"An enthralling blend of old European and Native American mythology, seamlessly worked into a modern setting and situation. De Lint's best so far." —Kirkus Revews on Someplace to Be Flying
"The reader does not have to be strictly a fan of either thrillers or fantasy to thoroughly enjoy this delightful tale." —The Washington Post on Someplace to Be Flying
"De Lint is as engaging a stylist as Stephen King, but considerably more inventive and ambitious. With Someplace To Be Flying he has produced a book that should appeal even to those who, like this reviewer, do not generally care a lot for fantasy." —Toronto Globe and Mail on Someplace to Be Flying
"As page-turning and intelligent as usual for de Lint, who clearly has no equal as an urban fantasist and very few equals among fantasists as a folklorist. First-rate." —Booklist on Someplace to Be Flying