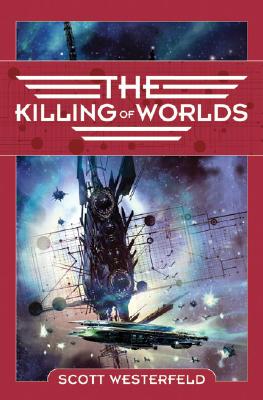 The Killing of Worlds (Hardcover)
Book Two of Succession
Tor Books, 9780765308504, 336pp.
Publication Date: October 1, 2003
Other Editions of This Title:
Paperback (9/30/2008)
Paperback (7/31/2018)
Mass Market Paperback (1/27/2005)
* Individual store prices may vary.
Description
Scott Westerfeld, the acclaimed author of Fine Prey, Polymorph, and Evolution's Darling, reached new heights of excitement in last spring's The Risen Empire, and left readers begging for more. Now he comes through with the dazzling payoff in book two of Succession, The Killing of Worlds.

Captain Laurent Zai of the Imperial frigate Lynx is a walking dead man. Unjustly held responsible for the death of the Child Empress, sister of the immortal Emperor, Zai has been sent to fight an unwinnable battle. The Lynx must stop a vastly superior Rix ship from reaching the planet Legis, a suicide mission that will almost certainly end in oblivion for Captain Zai and his crew.

On the planet Legis below, a Rix compound mind--a massive emergent AI formed from every computer on the planet--as been isolated by their Imperial blockade. But the mind has guided a lone Rix commando, Herd, to the planet's frozen north, and will soon order a desperate attempt to seize a polar communications array and break the blockade. Herd is a single warrior against an Imperial army, but moving silently behind her is the intelligence of an entire planet.

Ten light-years away, Captain Zai's true love, the psychic (some say mad) Senator Nara Oxham is engaged in a deadly game of political intrigue. From her position on the Emperor's War Council, Senator Oxham must find a way to forestall the Emperor's final solution if the blockade is broken: a nuclear strike to destroy the compound mind, which will also kill millions of Imperial citizens. She suspects that the Emperor has a hidden weakness discovered, by the mind, a secret so dangerous to his immortal dynasty that to prevent its discovery the Emperor is willing to countenance the ultimate crime. . . .

The killing of worlds.

With this powerful conclusion to the first story arc of Succession, Scott Westerfeld confirms his stature as one of the leading writers of high space opera.
About the Author
Scott Westerfeld is a software designer, a composer of music for modern dance, and the author of four previous novels. He lives in New York City and Sydney, Australia.
Praise For The Killing of Worlds: Book Two of Succession…
"The Risen Empire is proof that space opera can be as complex and sophisticated as any other form of literature."(Mike Resnick)




The concluding half of a superior space adventure yarn, filled with romance, betrayal, and terrific ordnance.



A superb job of depicting an escalating space battle between human and rival Rix (cyborg) forces, with its constantly amazing but logical weapons and tactics, as well as political maneuvering back at the imperial capital. Vivid characterization and a witty, laconic style lift this far above the space-opera average.
or
Not Currently Available for Direct Purchase