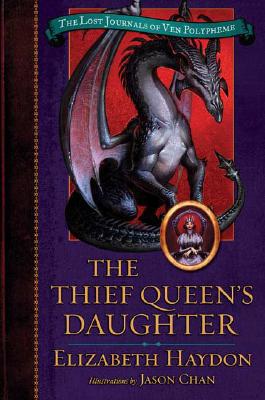 The Thief Queen's Daughter (Hardcover)
Starscape, 9780765308689, 320pp.
Publication Date: June 26, 2007
* Individual store prices may vary.
or
Not Currently Available for Direct Purchase
Description
"Long ago, in the Second Age of history, a young Nain explorer by the name of Ven Polypheme traveled much of the known and unknown world, recording his adventures. Recently discovered by archaeologists, a few fragments of his original journals are reproduced in this book. Great care has been taken to reconstruct the parts of the journal that did not survive, so that a whole story can be told "
On his first day on the job as Royal Reporter of the land of Serendair, King Vandemere sends young Charles Magnus Ven Polypheme--known as Ven--on a secret mission within the walls of the Gated City. His quest? To discover the origin of a mysterious artifact given to the king's father. The king warns Ven to take care--because once you enter the Gated City, you might never be allowed to leave.
Within its walls, all sorts of exotic merchandise not found anywhere else in the world can be bought or sold. But not only merchandise. Dreams, wishes, memories even childhood can be sold--or stolen. The Gated City is ruled by the powerful Raven's Guild, and the guild is ruled by the Queen of Thieves.
Ven and his friends enter the Gated City ready for adventure. But when one friend is kidnapped and it is revealed that they are traveling in the company of the runaway daughter of the Queen of Thieves herself, their adventure turns deadly. For the ruthless Thief Queen will stop at nothing to get her daughter back .
About the Author
Little is known for sure about reclusive documentarian Elizabeth Haydon. She is an expert in dead languages and holds advanced degrees in Nain Studies from Arcana College and Lirin History from the University of Rigamarole. Her fluency in those languages has led some to speculate that she may be descended of one of those races herself. She claims to have a husband and children, but again, no one is really sure. She is currently translating and compiling the third of the recently-discovered lost journals, "The Dragon's Lair, "when she is not attempting to break the world's record for longest braid of dental floss.
Praise For The Thief Queen's Daughter…
Praise for The Floating Island:

A Book Sense Children's Pick for Autumn 2006

"In her first book for young people, Haydon, a popular author of numerous fantasies for older readers, uses journal entries interspersed throughout a fast-paced narrative help bring Ven to life. Her world-building is as successful as her characters…. A delightful epic fantasy that will attract a readership both older and younger than the target audience." --Booklist, Starred review

"This completely delightful children's fantasy will charm kids and adults alike with its account of adventure, secrets and loyalty among friends. Fast-paced and populated with wonderful characters, this new series is sure to please readers looking for something different to read."--Romantic Times BookClub Magazine, Top Pick

"Haydon spins a story both warm and thrilling."--Publishers Weekly
Book Videos
Advertisement