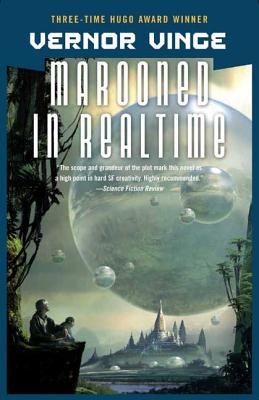 Marooned in Realtime (Peace War #2)
Paperback

* Individual store prices may vary.
Description
Multiple Hugo Award winner Vernor Vinge takes readers on a fifty-million-year trip to a future where humanity's fate will be decided in a dangerous game of high-tech survival.

In this taut thriller, a Hugo finalist for Best Novel, nobody knows why there are only three hundred humans left alive on the Earth fifty million years from now. Opinion is fiercely divided on whether to settle in and plant the seed of mankind anew, or to continue using high-energy stasis fields, or "bobbles," in venturing into the future. When somebody is murdered, it's obvious someone has a secret he or she is willing to kill to preserve.The murder intensifies the rift between the two factions, threatening the survival of the human race. It's up to 21st century detective Wil Brierson, the only cop left in the world, to find the culprit, a diabolical fiend whose lust for power could cause the utter extinction of man.

Filled with excitement and adventure, Vinge's tense SF puzzler will satisfy readers with its sense of wonder and engaging characters, one of whom is a murderer with a unique modus operandi.
Praise For Marooned in Realtime (Peace War #2)…
"Splendid long-range sequel to The Peace War. A marvelous extrapolative tale, to which no summary can do justice, with a gripping blend of high-tech razzle-dazzle and good old-fashioned murder-mystery--all spiced with that unique and awe-inspiring new twist on the time-travel theme. Easily Vinge's best work, and highly recommended."



"The scope and grandeur of the plot mark this novel as a high point in hard SF creativity. Highly recommended."



"Marooned in Realtime combines the expansive mode of hard SF with the narrow focus of the detective story, complete with a final orchestrated showdown. The result is exciting; you can hardly turn the pages fast enough."
Tor Books, 9780765308849, 288pp.
Publication Date: October 1, 2004
About the Author
Vernor Vinge is the multi Hugo Award-winning author of A Fire Upon the Deep, A Deepness in the Sky, and Rainbow's End. Known for his rigorous hard-science approach to his science fiction, he became an iconic figure among cybernetic scientists with the publication in 1981 of his novella "True Names," which is considered a seminal, visionary work of Internet fiction. His many books also include Marooned in Realtime and The Peace War.

Born in Waukesha, Wisconsin and raised in Central Michigan, Vinge is the son of geographers. Fascinated by science and particularly computers from an early age, he has a Ph.D. in computer science, and taught mathematics and computer science at San Diego State University for thirty years. He has gained a great deal of attention both here and abroad for his theory of the coming machine intelligence Singularity. Sought widely as a speaker to both business and scientific groups, he lives in San Diego, California.