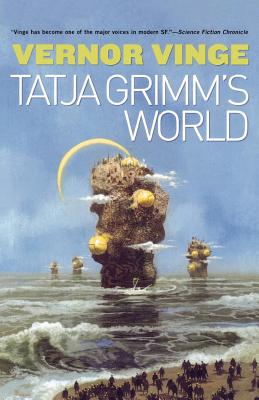 The Tatja Grimm's World
Paperback

* Individual store prices may vary.
Description
Multiple Hugo Award winner Vernor Vinge's first full-length novel

As a mud-spattered youngster, Tatja quickly realized she was different from the stone-age primitives with whom she grew up. Her insatiable curiosity and thirst for knowledge could not be quenched among them; she had to explore and learn more about the strange world she lived on.

She finds the bastion of all culture, arts, entertainment and history for the entire planet, the seven-hundred-year-old science fiction magazine Fantasie, which is produced entirely aboard a gargantuan floating vessel the size of a small city. But despite the printing presses, sail-powered vessels, and mind-expanding technology, Tatja is still dissatisfied. Rising through the ranks, she finds that the people on the enormous barge are just as unintelligent as the primitives she grew up with. But others have come to the planet who not only challenge her intelligence, but offer her a tantalizing opportunity to uncover answers to mysteries that have long plagued her.

But with opportunity comes risk. And if she acts unwisely, she could bring doom to the only world she knows.
Praise For The Tatja Grimm's World…
"An excellent and intricate story that provides further evidence that Vinge has become one of the major voices in modern SF." —Science Fiction Chronicle on A Deepness in the Sky

"This is top-drawer hard SF--fast-paced, packed with action, intellectually challenging and, above all, capable of invoking SF's grail: a genuine sense of wonder." —Publishers Weekly "Top 10 of 1999" on A Deepness in the Sky

"This new epic shares the breadth of imagination and vivid storytelling which made the earlier book so justly popular." —The Denver Post on A Deepness in the Sky

"Sporting enough action for a dozen Star Wars sequels, A Deepness in the Sky is filled with unsettling images of mind control and slavery." —The Dallas Morning News

"An ingenious and engaging tale of epic proportions, the kind of feast that fans of true science fiction have been hungry for for a long time." —SFSite on A Deepness in the Sky

"A masterful novel. Breathtaking, one of the premier science fiction novels of the past few years. Vinge is truly an original writer." —NOVA Express on A Deepness in the Sky

"Wow! A Deepness in the Sky is his best book yet and is a damn good example of what first-rate SF can be. Besides a good story with good characters, Vinge has enough throwaway ideas in the background for any three books." —Aboriginal SF

"Vast, riveting far-future saga involving evil gods, interstellar war, and manipulative aliens. No summary can do justice to the depth and conviction of Vinge's ideas. The overall concept astonishes; the aliens are developed with memorable skill and insight; the plot twists and turns with unputdownable tension." —Kirkus Reviews (starred review) on A Fire Upon the Deep

"With uninterrupted pacing, suspense without contrivance, and deftly drawn aliens who can be pleasantly comical without becoming cute, Vinge offers heart-pounding, mind-expanding science fiction at its best." —Publishers Weekly (Starred review) on A Fire Upon the Deep

"A wide-screen science fiction epic of the type few writers attempt any more, probably because nobody until Vinge has ever done it well. Has Hugo Winner written all over it." —Washington Post Book World on A Fire Upon the Deep
Tor Books, 9780765308856, 288pp.
Publication Date: January 24, 2006
About the Author
Vernor Vinge is the multi Hugo Award-winning author of A Fire Upon the Deep, A Deepness in the Sky, and Rainbow's End. Known for his rigorous hard-science approach to his science fiction, he became an iconic figure among cybernetic scientists with the publication in 1981 of his novella "True Names," which is considered a seminal, visionary work of Internet fiction. His many books also include Marooned in Realtime and The Peace War.

Born in Waukesha, Wisconsin and raised in Central Michigan, Vinge is the son of geographers. Fascinated by science and particularly computers from an early age, he has a Ph.D. in computer science, and taught mathematics and computer science at San Diego State University for thirty years. He has gained a great deal of attention both here and abroad for his theory of the coming machine intelligence Singularity. Sought widely as a speaker to both business and scientific groups, he lives in San Diego, California.