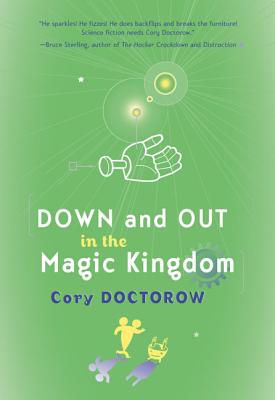 Down and Out in the Magic Kingdom (Paperback)
Tor Books, 9780765309532, 208pp.
Publication Date: December 5, 2003
Other Editions of This Title:
Digital Audiobook (11/21/2013)
Paperback (5/22/2018)
Hardcover (2/1/2003)
Paperback (1/31/2018)
* Individual store prices may vary.
Description
Bursting with cutting-edge speculation and human insight, Cory Doctorow's Down and Out in the Magic Kingdom is a coming-of-age romantic comedy and a kick-butt cybernetic tour de force
Jules is a young man barely a century old. He's lived long enough to see the cure for death and the end of scarcity, to learn ten languages and compose three symphonies...and to realize his boyhood dream of taking up residence in Disney World.
Disney World! The greatest artistic achievement of the long-ago twentieth century. Now in the care of a network of volunteer "ad-hocs" who keep the classic attractions running as they always have, enhanced with only the smallest high-tech touches.
Now, though, it seems the "ad hocs" are under attack. A new group has taken over the Hall of the Presidents and is replacing its venerable audioanimatronics with new, immersive direct-to-brain interfaces that give guests the illusion of being Washington, Lincoln, and all the others. For Jules, this is an attack on the artistic purity of Disney World itself.
Worse: it appears this new group has had Jules killed. This upsets him. (It's only his fourth death and revival, after all.) Now it's war: war for the soul of the Magic Kingdom, a war of ever-shifting reputations, technical wizardry, and entirely unpredictable outcomes.
About the Author
Cory Doctorow is a coeditor of Boing Boing, a special consultant to the Electronic Frontier Foundation, an MIT Media Lab Research Associate and a visiting professor of Computer Science at the Open University. His award-winning novel Little Brother and its sequel Homeland were a New York Times bestsellers. Born and raised in Canada, he lives in Los Angeles.
Praise For Down and Out in the Magic Kingdom…
"He sparkles! He fizzes! He does backflips and breaks the furniture! Science fiction needs Cory Doctorow." —Bruce Sterling, author of The Hacker Crackdown and Distraction
"This is science fiction for the non-SF reader as well as for hardcore fans of the genre--think Carl Hiassen crossed with Philip K. Dick, with just a dash of Disney magic" —Kathryn Lively, author of Saints Preserve Us
"In a world of affluence and immortality, the big battles will be fought over culture, not politics. That's the starting-point of Wired contributor Doctorow's daring novel.... Few challenges to copyright giants are as entertaining as this book." —Wired
"Cory Doctorow is the most interesting new SF writer I've come across in years. He starts out at the point where older SF writers' speculations end." —Rudy Rucker, author of Spaceland
"A kinetic, immersive yarn...wholly entertaining." —The Onion AV Club
or
Not Currently Available for Direct Purchase