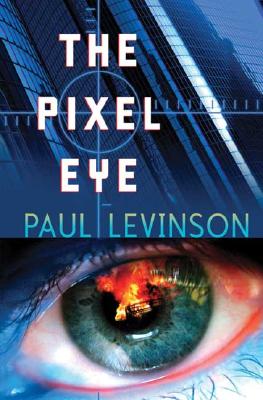 The Pixel Eye (Paperback)
Tor Books, 9780765310316, 336pp.
Publication Date: June 1, 2004
Other Editions of This Title:
Hardcover (8/1/2003)
* Individual store prices may vary.
Description
The future is always shaped by the present.

New York City, the next decade: terrorism is more threatening than ever; skyscrapers are a cherished, defiant statement; underground concourses have multiplied because of the sense of security they provide; law enforcement and civil liberties groups clash over the proper boundary between public safety and personal freedom. That's the tenor of the times when NYPD forensic detective Dr. Phil D'Amato is called in to investigate an urgent case--squirrels missing from Central Park!

It sounded like a joke, but Phil soon discovers it's anything but. A new telecom technology can put implants into the brains of living squirrels to translate what they are seeing into computer-viewable images. But who's behind this surveillance breakthrough? Federal agencies or terrorists?

Phil's latest adventure pits personal loyalties against public responsibilities, privacy against freedom, security against animal rights, all against a backdrop of a near-future, post-9/11 New York City that is completely recognizable, even with its new generation of advanced cellular phones, free-standing holograms, tunneling technologies, transport systems, and forensic computers. The Pixel Eye offers a vision of a future we may all soon be living in.
About the Author
Paul Levinson's eight nonfiction books, including "The Soft Edge "(1997), "Digital McLuhan "(1999), "Realspace "(2003), and "Cellphone" (2004), have been the subject of major articles in the" New York Times, Wired," the "Christian Science Monitor," and have been translated into ten languages. "New New Media "will be published in the summer of 2009. His science fiction novels include "The Silk Code" (1999, winner of the Locus Award for Best First Novel)., "Borrowed Tides" (2001), "The Consciousness Plague" (2002), "The Pixel Eye" (2003), and "The Plot""To Save Socrates" (2006). His short stories have been nominated for Nebula, Hugo, Edgar, and Sturgeon Awards. Paul Levinson appears on "The O'Reilly Factor" (Fox News), "The CBS Evening News," "NewsHour with Jim Lehrer" (PBS), "Nightline" (ABC), and numerous national and international TV and radio programs. He reviews the best of television in his InfiniteRegress.tv blog, and was listed in "The Chronicle of Higher Education"'s "Top 10 Academic Twitterers" in 2009. Paul Levinson is Professor of Communication & Media Studies at Fordham University in New York City.
or
Not Currently Available for Direct Purchase