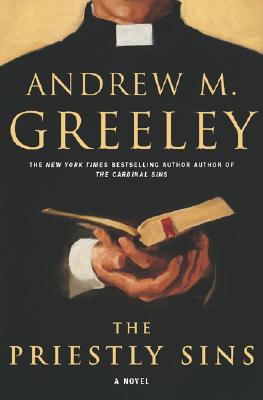 The Priestly Sins (Hardcover)
Forge Books, 9780765310521, 304pp.
Publication Date: April 1, 2004
* Individual store prices may vary.
or
Not Currently Available for Direct Purchase
Description
Not since his runaway bestseller, The Cardinal Sins, has Father Andrew M. Greeley written such a searing and topical novel about the state of the Catholic Church.

The Priestly Sins tells the story of Father Herman Hoffman, a gifted and innocent young man from the distant prairies of the Great Plains. In the first summer of his first parish appointment, Hoffman is swept up in The Crisis after witnessing child abuse in the parish rectory. He tells the pastor, the father of the victim, and the local police but is rebuffed by the archbishop. Soon he is vilified for denouncing a priest who has been "cleared" by the police and learns the harsh fate of the whistle-blower in the contemporary Catholic church: He is locked up in a mental-health center and then sent into exile to do graduate study.

In Chicago to study immigrant history, he encounters the local "Vicar for Extern Priests," the legendary Monsignor Blackie Ryan, who helps him regain his confidence. Hoffman returns home to demand a parish of his own from the archbishop. Reluctantly, the church hierarchy assigns him to a dying parish, but by his zeal and charm Hoffman revives the local church. His brief idyll is shattered by a subpoena to testify in a court hearing. If he speaks, he will have to take on the "downtown" establishment that is determined to destroy him and many of his fellow priests who want to be rid of this painful reminder of a sinful past. Hoffman faces exile not only from his parish, but from the priesthood itself.

Writing from the author's fifty years of experience as a priest, The Priestly Sins will be criticized by some but embraced by most as an all-too-candid story of all-too-human priests. The Priestly Sins is Father Greeley's most electrifying novel in three decades, a novel sure to rise up the bestseller lists.
About the Author
Priest, sociologist, author and journalist, Father Andrew M. Greeley built an international assemblage of devout fans over a career spanning five decades. His books include the Bishop Blackie Ryan novels, including "The Archbishop in Andalusia," the Nuala Anne McGrail novels, including "Irish Tweed," and "The Cardinal Virtues." He was the author of over 50 best-selling novels and more than 100 works of non-fiction, and his writing has been translated into 12 languages.Father Greeley was a Professor of Sociology at the University of Arizona and a Research Associate with the National Opinion Research Center (NORC) at the University of Chicago. In addition to scholarly studies and popular fiction, for many years he penned a weekly column appearing in the "Chicago Sun-Times" and other newspapers. He was also a frequent contributor to "The New York Times," the "National Catholic Reporter," "America "and "Commonweal," and was interviewed regularly on national radio and television. He authored hundreds of articles on sociological topics, ranging from school desegregation to elder sex to politics and the environment.Throughout his priesthood, Father Greeley unflinchingly urged his beloved Church to become more responsive to evolving concerns of Catholics everywhere. His clear writing style, consistent themes and celebrity stature made him a leading spokesperson for generations of Catholics. He chronicled his service to the Church in two autobiographies, "Confessions of a Parish Priest" and "Furthermore!"In 1986, Father Greeley established a $1 million Catholic Inner-City School Fund, providing scholarships and financial support to schools in the Chicago Archdiocese with a minority student body of more than 50 percent. In 1984, he contributed a $1 million endowment to establish a chair in Roman Catholic Studies at the University of Chicago. He also funded an annual lecture series, "The Church in Society," at St. Mary of the Lake Seminary, Mundelein, Illinois, from which he received his S.T.L. in 1954.Father Greeley received many honors and awards, including honorary degrees from the National University of Ireland at Galway, the University of Arizona and Bard College. A Chicago native, he earned his M.A. in 1961 and his Ph.D. in 1962 from the University of Chicago. Father Greeley was a penetrating student of popular culture, deeply engaged with the world around him, and a lifelong Chicago sports fan, cheering for the Bulls, Bears and the Cubs. Born in 1928, he died in May 2013 at the age of 85.
Advertisement