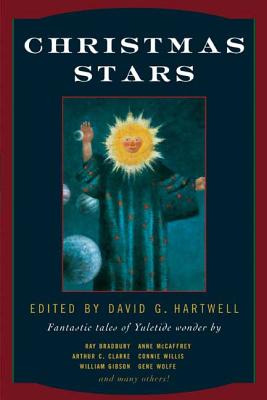 Christmas Stars
Fantastic Tales of Yuletide Wonder
Paperback

* Individual store prices may vary.
Description
Twenty-five classic science fiction and fantasy tales of Yuletide wonder, including stories by Ben Bova, Ray Bradbury, Arthur C. Clarke, John M. Ford, William Gibson, Anne McCaffrey, Frederik Pohl, Spider Robinson, Gene Wolfe, and the hard-to-find Philip Van Doren Stern fantasy that inspired the film It's A Wonderful Life.

'Twas the night before tomorrow, and all through the galaxy, nothing burns as bright as... Christmas Stars.

Christmas is a time for miracles, scientific and otherwise, and for surprises that can only occur at this time of the year. But what marvels will the holidays bring to the far future--or to alien worlds light-years from the North Pole?

In this celebratory collection, many of today's finest writers of fantasy and science fiction unwrap startling visions of the future of Christmas. An unusual Christmas spirit brings confusion--and romance--to a modern young woman. A father's gift opens up the universe for all humanity. And a devout researcher uncovers the shattering secret of the original Star of Bethlehem. These and other stories shine like sparkling, unearthly ornaments on a fresh green tree of holiday traditions.
Tor Books, 9780765310958, 320pp.
Publication Date: November 5, 2004
About the Author
David G. Hartwell, called "an editor extraordinaire" by Publishers Weekly, is one of science fiction's most experienced and influential editors. As an editor with Berkley Books, Pocket Books, William Morrow, and Tor Books, he has worked with many of the field's best authors and edited many award-winning works. He is the author of Age of Wonders, a nonfiction study of the science fiction field. Among his many anthologies are the bestselling World Treasury of Science Fiction and the World Fantasy Award winner The Dark Descent. He is the holder of a Ph.D. in comparative literature from Columbia University, a winner of the Eaton Award, and has won three Hugo Awards for his editorial work.