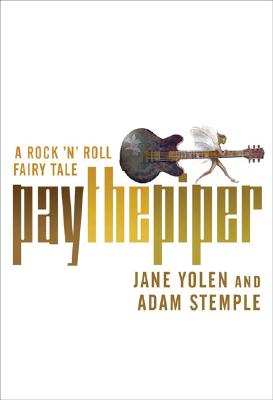 Pay the Piper (Hardcover)
A Rock 'n' Roll Fairy Tale
Starscape, 9780765311580, 176pp.
Publication Date: June 16, 2005
Other Editions of This Title:
Paperback (6/27/2006)
* Individual store prices may vary.
Description
A rock 'n' roll band to die for? Callie is about to find out.... Not much happens in fourteen-year-old Callie McCallan's sleepy Massachusetts town. So when the famous rock 'n' roll band, Brass Rat, schedules a concert in the Valley, it's big news. As a reporter for her school paper, Callie scores the scoop of a lifetime--a backstage pass to interview the lead singer of Brass Rat! Her friends are so jealous. But Callie isn't sure what the fuss is all about...until she meets the band. Lead singer Peter Gringras and his band mates are so cool. Especially Peter. When he plays his flute, it's as if he has some kind of hypnotic power. But there is something strange about the band, something Callie can't quite put her finger on. Maybe she's just being weird, but it's as if they're from here--but not from here--at the same time.

It's when, on Halloween night, Callie's little brother Nicky disappears--along with all the other children of Northampton--that she begins to wonder if her suspicions are so weird after all. It's crazy, but Callie thinks she knows why the children have disappeared--and who took them. To prove it--and to rescue Nicky and the other children--Callie will be forced down a road that will lead to her to a mythical world filled with fantastical creatures. A world from which there may be no return....
About the Author
Jane Yolen, a Caldecott Medal winner and two-time Nebula Award winner, is one of the most distinguished and successful authors for young readers and adults in the country. She is the winner of dozens of prestigious awards, among them the World Fantasy Award, the Maud Hart Lovelace Book Award, and two Christopher Medals. She lives in Hatfield, Massachusetts. Adam Stemple is a professional rock 'n' roll musician who has recorded several albums and has had a number of short stories published. "Pay the Piper" is his first book for younger readers---and his first novel collaboration with his mother. Jane Yolen and Adam Stemple are both busy at work on the next book in their Rock 'n' Roll Fairy Tale series.
Praise For Pay the Piper: A Rock 'n' Roll Fairy Tale…
"Grim and great, this retelling whetted my appetite for more."--Holly Black, author of the New York Times bestselling Spiderwick Chronicles on Pay the Piper

"A smart and stubborn girl reporter unravels an ancient elvish curse and sets a rock and roll Pied Piper to rights in this modern day fantasy wild ride-I roared right through it!"--Tamora Pierce, author of Trickster's Queen

"Music, magic, and the middle child of three--these make a gripping combination. I couldn't put this book down."—-Diana Wynne Jones, author of Howl's Moving Castle

"Music, magic, curses, and courage: Pay the Piper is my kind of book, and Callie McCallan is my kind of hero! Mighty cool book, but given that it's Adam and Jane, that's just what I expected!"--Emma Bull, author of War for the Oaks

"Music, magic, and mayhem! Jane Yolen's deep knowledge of world myth
and Adam Stemple's mastery of world music combine to phantasmagorical
effect in this faerie-fueled tale of two worlds."-- Bruce Coville, author of My Teacher Is An Alien




"Grim and great, this retelling whetted my appetite for more."

-Holly Black


"I roared right through it!"

-Tamora Pierce


"Music, magic, and the middle child of three--these make a gripping combination. I couldn't put this book down."

-Diana Wynne Jones


"Pay the Piper is my kind of book, and Callie McCallan is my kind of hero! Mighty cool book!"

-Emma Bull


"Jane Yolen's deep knowledge of world myth and Adam Stemple's mastery of world music combine to phantasmagorical effect in this faerie-fueled tale."

-Bruce Coville
or
Not Currently Available for Direct Purchase