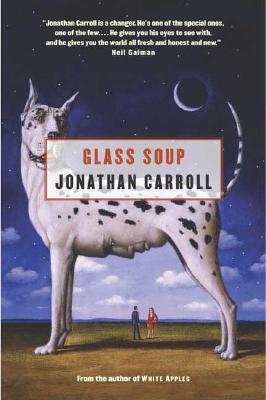 Glass Soup
Hardcover

* Individual store prices may vary.
Other Editions of This Title:
Paperback (11/28/2006)
Description
For connoisseurs of imaginative fiction, the novels of Jonathan Carroll are a special treat that occupy a space all their own. His surreal fictions, which deftly mix the everyday with the extraordinary, have won him a devoted following. Now, in Glass Soup, Carroll continues to astound . . . .

The realm of the dead is built from the dreams--and nightmares--of the living. Octopuses drive buses. God is a polar bear. And a crowded highway literally leads to hell.

Once before, Vincent Ettrich and his lover, Isabelle Neukor, crossed over from life to death and back again. Now Isabelle bears a very special child, who may someday restore the ever-changing mosaic that is reality. Unless the agents of Chaos can lure her back to the land of the dead--and trap her there forever.
Glass Soup is another exquisite and singular creation from the author January magazine described as "incapable of writing a bad book much less an uninteresting one."
Praise For Glass Soup…
"An extraordinary writer. . . . Jonathan Carroll is a cult waiting to be born."
--Pat Conroy

"Jonathan Carroll is a changer. He's one of the special ones, one of the few . . . . He gives you his eyes to see with, and he gives you the world all fresh and honest and new."
--Neil Gaiman

"Jonathan Carroll is a master of sunlit surrealism--his beguiling, impossible novels are like Frank Capra films torn open to reveal the Philip K. Dick or Julio Cortázar mechanisms ticking away at their cores."
--Jonathan Lethem

"Jonathan Carroll is far superior to most writers working today, anywhere."
--Spin Magazine on Kissing the Beehive

"I envy anyone who has yet to enjoy the sexy, eerie and addictive novels of Jonathan Carroll. They are delicious treats--with devilish tricks inside them."
--The Washington Post on Sleeping in Flame

"Carroll often startles with the deftness of his insights, both personal and metaphysical, and there are lines that, for their poetry, one wants to cut out and frame . . . beauty and wisdom reside here."
--Publishers Weekly on The Marriage of Sticks

"Sensuous, sexy, and spiritual . . . Carroll's prose is enchanting, even spellbinding."
--The San Diego Union-Tribune on White Apples

"Imagine if David Lynch wrote in a good mood and came up with a punchy, smart-aleck version of Lost Highway . . . but with a dizzying romance steeped in surreal circumstances at its center."
--The Boston Globe on White Apples
Tor Books, 9780765311795, 320pp.
Publication Date: September 15, 2005
About the Author
Jonathan Carroll's novel "The Wooden Sea" was named a "New York Times" Notable book of 2001. He is also the author of such acclaimed novels as "White Apples," "The Land of Laughs," and "The Marriage of Sticks." He lives in Vienna.
or
Not Currently Available for Direct Purchase