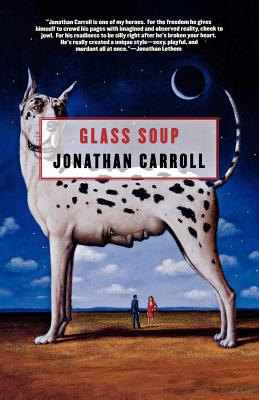 Glass Soup
Paperback

* Individual store prices may vary.
Other Editions of This Title:
Hardcover (9/15/2005)
Description
For connoisseurs of imaginative fiction, the novels of Jonathan Carroll are a special treat that occupy a space all their own. His surreal fictions, which deftly mix the everyday with the extraordinary, have won him a devoted following. Now, in Glass Soup, Carroll continues to astound . . . .

The realm of the dead is built from the dreams--and nightmares--of the living. Octopuses drive buses. God is a polar bear. And a crowded highway literally leads to hell.

Once before, Vincent Ettrich and his lover, Isabelle Neukor, crossed over from life to death and back again. Now Isabelle bears a very special child, who may someday restore the ever-changing mosaic that is reality. Unless the agents of Chaos can lure her back to the land of the dead--and trap her there forever.

Glass Soup is another exquisite and singular creation from the author January magazine described as "incapable of writing a bad book much less an uninteresting one."
Praise For Glass Soup…
"I love Jonathan Carroll's books. They are as surprising and delightful as Rottweiler puppies-- and they bite, too." —Audrey Niffenegger, author of The Time Traveler's Wife, on Glass Soup

"I always look forward to a new book by Jonathan Carroll--his work is consistently witty, compassionate and astounding, and Glass Soup is no exception. It is a tender, funny love story, both madcap and darkly metaphysical: a singular creation that further adds to the fabulous Carroll oeuvre." —Dan Chaon, author of You Remind Me of Me

"An ambitious retelling of the cosmic struggle between good and evil... make Carrol's latest a delicious dish . . . . This is a marvelous comic feast." —Publishers Weekly, on Glass Soup

"The plausibly surreal Glass Soup provides more proof Carroll is as marvelous a writer as you'll find in this life or any other." —Cinefantastique

"Welcome to another one of Carroll's weird, wondrous worlds…" —Time Out New York on Glass Soup

"Glass Soup is a wonder-story rich and complete in its own right, but fans will be interested to know that it also serves as a sequel to the tale of Vincent Ettrich and his beloved Isabelle Neukor, continuing the modern-day Orpheus tale begun in White Apples. Carroll's flights of imagination seem boundless, but, amazingly, his ambitious themes and hallucinatory landscape don't get the better of this tightly plotted, beautifully written story. This may be his best work yet." —The Ruminator

"An extraordinary writer. . . . Jonathan Carroll is a cult waiting to be born." —Pat Conroy on Jonathan Carroll

"Jonathan Carroll is a changer. He's one of the special ones, one of the few . . . . He gives you his eyes to see with, and he gives you the world all fresh and honest and new." —Neil Gaiman, author of American Gods

"Jonathan Carroll is a master of sunlit surrealism--his beguiling, impossible novels are like Frank Capra films torn open to reveal the Philip K. Dick or Julio Cortázar mechanisms ticking away at their cores." —Jonathan Lethem
Tor Books, 9780765311801, 320pp.
Publication Date: November 28, 2006
About the Author
Jonathan Carroll's novel The Wooden Sea was named a New York Times Notable Book of 2001. He is the author of such acclaimed novels as White Apples, The Land of Laughs, The Marriage of Sticks, and Bones of the Moon. He lives in Vienna, Austria.