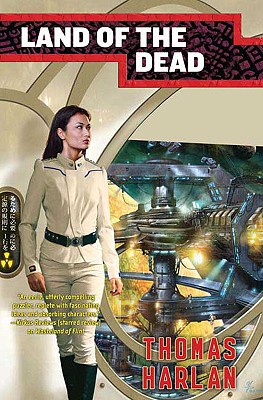 Land of the Dead (Hardcover)
Tor Books, 9780765312044, 416pp.
Publication Date: August 4, 2009
* Individual store prices may vary.
or
Not Currently Available for Direct Purchase
Description
It's a small change in our history: imagine that the Japanese made contact with the Aztec Empire. Instead of small-pox and Christianity, they brought an Imperial alliance, samurai ethics, and technology. By the time of these books, the Emperor in Mexico City rules not just the entire planet Earth, but a growing interplanetary Empire. But the Galaxy is not a hospitable place, and there are other powers, both new and very very old, who would stop the spread of the power in Anuhuac. A weapon of the Old Ones, from the time of the First Sun, has been found in a region of space. It must be investigated, then tamed or destroyed to keep it from the hands of opposing powers. Gretchen Anderssen, freelance archeologist and specialist in First Sun artifacts, has been hired by her old mentor Green Hummingbird, agent of the Mirror Service, to join him in the study. They will be joined by old friends, and some old enemies as well.
About the Author
THOMAS HARLAN is the author of the highly regarded Oath of Empire fantasy series, as well as being an internationally-known game designer. He lives in Salem, Oregon.
Praise For Land of the Dead…
"If you like space opera you will enjoy Thomas Harlan's House Of Reeds. I look forward to his next book set in this milieu."--Paul Hanley, SF Crowsnest, on House of Reeds
"An eerie, utterly compelling puzzler, replete with fascinating ideas and absorbing characters."--Kirkus Reviews (starred review) on Wasteland of Flint
"Against that intriguing background, Harlan sets an archaeological adventure of epic proportions…. The trickle of details regarding the long-passed original inhabitants of Ephesus III heightens and sustains the fascination of an already action-packed story."--Booklist on Wasteland of Flint
Advertisement