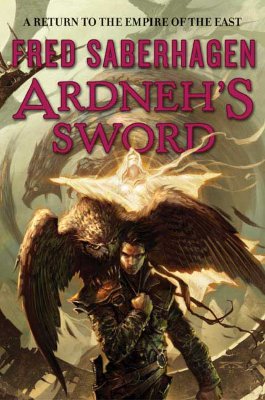 Ardneh's Sword (Hardcover)
Tor Books, 9780765312105, 352pp.
Publication Date: May 2, 2006
* Individual store prices may vary.
or
Not Currently Available for Direct Purchase
Description
It's been a thousand years since the time of Ardneh, the transcendant being that saved humanity from the vicious archdemon Orcus. It was a legndary battle between magic and technology that killed them both, but left behind tales of Ardneh's heroism and newly found hope for humanity. But in the passing years only a few remain that actually believe these legends as truths.
Chance Rolfson comes from a long line of Ardneh's followers, descendants from Rolf, the illustrious warrior who fought in Ardneh's name for humanity many years ago. A young man plagued with vivid nightmares, Chance hopes to clear his head by joining a forest expedition that seeks physical proof of Ardneh's existence. Their goal is to discover the great vault prophesized to hold the savior of humanity's secrets to his own power and wisdom. But the dangers are high in the uncharted forests, rife with bandits and demons that no magic can stop. And as Chance's dreams become more clear, he soon realizes these are not merely dreams but visions, and he alone holds the key to unlocking Ardneh's greatest gift, known to the followers as Ardneh's Sword.
About the Author
FRED SABERHAGEN lives in Albuquerque, New Mexico. In addition to the Empire of the East and his celebrated Berserker series, he has also authored several other popular series including his Swords and Lost Swords stories, the Book of the Gods series, and the chronicles of Dracula.
Praise For Ardneh's Sword…
"Ranks favorably with Tolkien. Exceptional in sheer unbridled zest and imaginative sweep. Saberhagen's style in noteworthy for its detail, the depth and humor of his characterizations, and his ability to imbue villains with wicked charm."--School Library Journal on Empire of the East

"A fine mix of fantasy and science fiction, action and speculation."--Roger Zelazny on Empire of the East

"The most seamless splicing of SF and fantasy I've found."--Baird Seales, Asimov's on Empire of the East

"Empire of the East is one of the best science fantasy epics--Saberhagen can be justly proud. Highly recommended."--Science Fiction Review on Empire of the East

"I couldn't really put the book down and regretted every page turned because it made one less page to discover . . . Empire of the East is the work of a master."--Algis Budrys, F&SF on Empire of the East

Advertisement