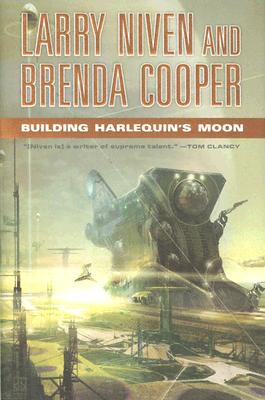 Building Harlequin's Moon (Hardcover)
Tor Books, 9780765312662, 400pp.
Publication Date: May 19, 2005
Other Editions of This Title:
Paperback (4/4/2006)
Paperback (4/4/2006)
Compact Disc (10/1/2012)
MP3 CD (10/1/2012)
Compact Disc (10/1/2012)
* Individual store prices may vary.
Description
The first interstellar starship, John Glenn, fled a Solar System populated by rogue AIs and machine/human hybrids, threatened by too much nanotechnology, and rife with political dangers. The John Glenn's crew intended to terraform the nearly pristine planet Ymir, in hopes of creating a utopian society that would limit intelligent technology.
But by some miscalculation they have landed in another solar system and must shape the gas giant planet Harlequin's moon, Selene, into a new, temporary home. Their only hope of ever reaching Ymir is to rebuild their store of antimatter by terraforming the moon.
Gabriel, the head terraformer, must lead this nearly impossible task, with all the wrong materials: the wrong ships and tools, and too few resources. His primary tools are the uneducated and nearly-illiterate children of the original colonists, born and bred to build Harlequin's moon into an antimatter factory.
Rachel Vanowen is one of these children. Basically a slave girl, she must do whatever the terraforming Council tells her. She knows that Council monitors her actions from a circling vessel above Selene's atmosphere, and is responsible for everything Rachel and her people know, as well as all the skills, food, and knowledge they have ever received. With no concept of the future and a life defined with duty, how will the children of Selene ever survive once the Council is through terraforming and have abandoned Selene for its ultimate goal of Ymir?
About the Author
LARRY NIVEN is the multiple Hugo and Nebula Award-winning author of the Ringworld series, along with many other science fiction masterpieces. His Beowulf's Children, co-authored with Jerry Pournelle and Steven Barnes was a New York Times bestseller. He lives in Chatsworth, California.

BRENDA COOPER has published many short stories, including a collaboration, Ice and Mirrors, with Larry Niven in Scatterbrain. She lives in Kirkland, Washington.
Praise For Building Harlequin's Moon…
"Niven and Cooper have crafted a multi-generational, star-spanning epic, with intriguing, fast-paced action. Against a backdrop of mind-boggling technology, the authors ask important questions about how far science should go, and its impact on social structures and human rights. Niven and Cooper are playing God on a grand scale."-Brian Herbert, New York times bestselling author of Dune: The Battle of Corrin

"Larry Niven and Brenda Cooper colonization novel is a hugely ambitious, meticulously rendered feast for both head and heart. I can't wait to see what they do next!" ---Steven Barnes

"Larry Niven and Brenda Cooper have accomplished that most difficult of tasks, a novel full of real, hard science, but character-driven from the first page. The scope is enormous, but the focus is intimate, with characters who live and breathe. A marvelous read!"-Louis Marley

"Building Harlequin's Moon is a big tale, well told. Wonderful world-building and characters you can care about."--Syne Mitchell




"A multi-generational, star-spanning epic, with intriguing, fast-paced action. Against a backdrop of mind-boggling technology, the authors ask important questions about how far science should go, and its impact on social structures and human rights."


-Brian Herbert


"A hugely ambitious colonization novel. A meticulously rendered feast for both head and heart."


-Steven Barnes


"A novel full of real, hard science, but character-driven from the first page. The scope is enormous, but the focus is intimate, with characters who live and breathe."

-Louise Marley


"Building Harlequin's Moon is a big tale, well told. Wonderful world-building and characters you can care about."

-Syne Mitchell
or
Not Currently Available for Direct Purchase