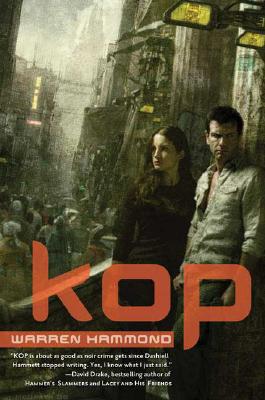 KOP (Hardcover)
Tor Books, 9780765312723, 336pp.
Publication Date: June 26, 2007
Other Editions of This Title:
Paperback (3/17/2019)
MP3 CD (5/17/2016)
Paperback (2/18/2016)
Hardcover (2/23/2016)
Paperback (4/29/2008)
Mass Market Paperback (4/29/2008)
* Individual store prices may vary.
Description
Juno is a dirty cop with a difficult past and an uncertain future. When his family and thousands of others emigrated to the colony world of Lagarto, they were promised a bright future on a planet with a booming economy. But before the colonists arrived, everything changed. An opportunistic Earth-based company developed a way to produce a cheaper version of Lagarto's main export, thus effectively paupering the planet and all its inhabitants. Growing up on post-boom Lagarto, Juno is but one of the many who live in despair. Once he was a young cop in the police department of the capital city of Koba. That was before he started taking bribes from Koba's powerful organized crime syndicate. Yet despite his past sins, some small part of him has not given up hope. So he risks his life, his marriage and his job to expose a cabal that would enslave the planet for its own profit. But he's got more pressing problems, when he's confronted with a dead man, a short-list of leads, and the obligatory question: who done it? Set up for a fall, partnered with a beautiful young woman whose main job is to betray him, and caught in a squeeze between the police chief and the crooked mayor, Juno is a compelling, sympathetic hero on a world that has no heroes.

An exciting science fiction adventure and a dark, gritty noir thriller told in taut, powerful prose, this is a remarkable debut novel.
About the Author
Warren Hammond lives in Denver, Colorado, where he's working on a sequel, "EX-KOP."
Praise For KOP…
"Gritty and steamy, Hammond's KOP is both a throwback to the glory days of hard-boiled action thrillers and a prescient vision of the next place where technology and human frailties will intersect. Its blood-specked armor-plating gradually---and impressively--reveals a genuine heart."
--K.W. Jeter, bestselling author of Bladerunner 2: The Edge of Human
or
Not Currently Available for Direct Purchase