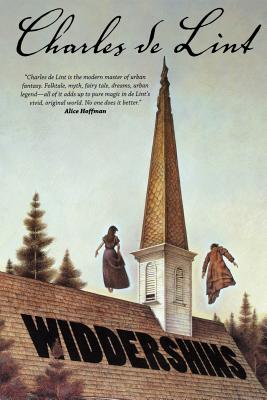 Widdershins (Newford) (Paperback)
Tor Books, 9780765312860, 560pp.
Publication Date: June 12, 2007
Other Editions of This Title:
Digital Audiobook (6/15/2010)
Hardcover (5/16/2006)
Compact Disc (7/1/2010)
MP3 CD (7/1/2010)
Compact Disc (6/1/2012)
Audio Cassette (7/1/2010)
* Individual store prices may vary.
Description
Jilly Coppercorn and Geordie Riddell. Since they were introduced in the first Newford story, "Timeskip," back in 1989, their friends and readers alike have been waiting for them to realize what everybody else already knows: that they belong together. But they've been more clueless about how they feel for each other than the characters in When Harry Met Sally. Now in Widdershins, a stand-alone novel of fairy courts set in shopping malls and the Bohemian street scene of Newford's Crowsea area, Jilly and Geordie's story is finally being told.
Before it's over, we'll find ourselves plunged into the rancorous and sometimes violent conflict between the magical North American "animal people" and the more newly-arrived fairy folk. We'll watch as Jilly is held captive in a sinister world based on her own worst memories--and Geordie, attempting to help, is sent someplace even worse. And we'll be captivated by the power of love and determination to redeem ancient hatreds and heal old magics gone sour.
To walk "widdershins" is to walk counterclockwise or backwards around something. It's a classic pathway into the fairy realm. It's also the way people often back slowly into the relationships that matter, the real ones that make for a life. In Widdershins Charles de Lint has delivered one of his most accessible and moving works of his career.
A June 2006 Book Sense Pick
About the Author
Charles de Lint and his wife, the artist MaryAnn Harris, live in Ottawa, Ontario, Canada. His evocative novels, including Moonheart, Forests of the Heart, and The Onion Girl, have earned him a devoted following and critical acclaim as a master of contemporary magical fiction in the manner of storytellers like John Crowley, Jonathan Carroll, Alice Hoffman, Ray Bradbury, and Isabel Allende.
Praise For Widdershins (Newford)…
"As familiarly as though he were chronicling the lives of old friends, de Lint spins yet another magical story of the intersections between reality and the faerie and spirit world in this latest addition to the Newford opus, his twin loves of storytelling and music-making shining through every page....[H]ighly recommended." —Library Journal (starred review) on Widdershins
"De Lint weaves the individual characters' stories into a tight-knit whole....Many of his faithful readers see the people he has created as kin they want to keep up with. Walk widdershins (i.e., counterclockwise) once and you may, too." —Booklist (starred review) on Widdershins
"This pleasing addition to the popular Newford saga brings series characters Jilly Coppercorn and Geordie Riddell together in a romantic relationship that's anything but simple…. inevitably recalls Neil Gaiman's American Gods, to which this more intimate and folksy book compares favorably." —Publishers Weekly on Widdershins
"Books like Widdershins can be read with tremendous pleasure, and regular readers will find themselves slipping easily back into de Lint's comforting… world." —The Ottawa Citizen
"Sentimental, wildly imaginative follow-up to The Onion Girl.... Despite the convoluted lineages, a rather sweet relationship novel." —Kirkus Reviews on Widdershins
"The author's many fans will welcome this intricate melding of his themes and characters." —VOYA on Widdershins
"De Lint is a master stylist, and the tale of Jilly and Geordie's slow but inevitable coming together is told with extraordinary sensitivity and grace." —Romantic Times Bookclub (4.5 star review) on Widdershins
"[V]intage de Lint and a perfect example of how his nontraditional approach to faerie works so well....Charles de Lint is one of my all-time favorite authors and...Widdershins...stand[s] up as some of the best writing he has done." —Colleen Mondor, BookSlut, on Widdershins
"I've praised de Lint's writing in the past, but I've run out of superlatives for Widdershins. It is easily one of the best--if not the best-- novels in his vast library." —Tom Knapp, Rambles.net, on Widdershins
"This broad, captivating fantasy involves love and magic and features a fairy court set in a contemporary mall." —Dallas Morning News on Widdershins
"I do recommend Widdershins very highly.… chalk it up to de Lint's masterful storytelling, because he is a storyteller of the highest order. The characters alone are worth the time…. And of course, there is that blend of the magical and the real that only de Lint seems to be able to pull off." —Green Man Review
"Imagine me, your humble book reviewer, down on my knees with my arms extended above my head, bowing at the waist in worship over and over before a book set upon an altar. Well, after reading Widdershins, the extraordinary new novel by Charles de Lint, I not only wanted to bow in worship to the book, which I consider the best thing I've read in the last couple of years (if not longer), but to the author as well. Anyone with this kind of talent for storytelling and dreamweaving deserves his own altar.… Five stars is just not enough. Widdershins is an experience not to be missed. Just start walking counter-clockwise…" —Curled Up With a Good Book on Widdershins
Widdershins is about a shadow world—the otherworld, the realm of spirits—that exists, unseen, side by side with our own world. Lizzie stumbles into it one night when her car breaks down. How do the two worlds mirror one another? Does one seem better, or nobler? What elements of political and personal life occur in both realms, and how are they dealt with differently in each?
Many of the main human characters in Widdershins are Celtic musicians, and the author mentions that Celtic music "calls to fairy." Do you think that musicians— or any artists—live closer to the spirit world than other people? What kind of power does music have in the story, over humans, fairy, or cousins?
Names are mentioned frequently in the story as being a source of enormous power: to know a being's true name, the author says, is to have power over that being. What is it about naming that carries so much weight? Do you think that the association between names and power is ever real in our world? If you had a true name distinct from your everyday "speaking name," what do you think it would be?
For most of the book, Lizzie maintains a hard-and-fast rule against getting romantically involved with another member of her band. What do you think of this rule, and of the fact that she ultimately breaks it? What will come of her relationship with Con? Do you think that they would have come together at some point even if Lizzie hadn't been drawn into the fairy realm? What did she learn there that changed her mind about Con?
Jilly Coppercorn's story—both past and present—is about the separation between body and mind, and the final confrontation that she endures in Widdershins takes place when her physical self becomes trapped inside a pocket world created by her own mind. What is Jilly's final and most difficult task, in that world and in her life's story? How much power do our will, our beliefs, and our attitudes have over our physical health and wholeness? How much of a say do you think we have in our own healing, and what kinds of roles can forgiveness play in it?
The issue of violence and whether it is ever justified comes up repeatedly in Widdershins. Which characters struggle the most with issues of violence? The cerva forbid killing, believing that any death diminishes everyone. Do you believe that this is true? For Honey, violence provides the final resolution of her lifelong battle against her abusers. Are there uses of violence, or even killings, in Widdershins that seem justified?
The conflict between Native North American populations and the descendants of the Europeans who displaced them is a fundamental theme in Widdershins. What characterizes each group? What do they cherish, and how do their respective value systems work? Are they irreconcilably different? Do they learn from one another at any point in the story?
Many of the book's most ancient and powerful characters—Tatiana, Galfreya, the Crow Girls—take the form of teenagers or twenty-somethings, sometimes dressing like skateboarders or punk rockers. Why do you think these spirits prefer such forms? What advantages do they give, apart from beauty? The book stresses that fairy live not in the past or future but firmly in the present. Are adolescents and young adults better at this than the rest of us? Which, if any, human characters in Widdershins have mastered it
Most of the characters in Widdershins proceed with hope and optimism, even in the face of desperate circumstances. The book stresses that fairy magic relies largely on one's strength of will. And though hobbled by injury and traumatized in childhood, Jilly has never despaired—until she sees Geordie killed. How do people like her maintain hope and optimism when everything in life seems to weigh against them? To what degree are we victims of our circumstances and experiences? How much of a say do we have in the direction our lives take? What kinds of trauma is it possible to overcome, and what kinds mark the soul forever?
Three levels of conflict intersect in Widdershins: conflict between two individuals, such as Grey and Odawa; tribal political conflict, in which the cerva seek a war with fairy based upon old grievances and sparked by a killing; and conflict within oneself, which we see most clearly in Jilly and her pocket world. Does one level seem to you more pressing than the others? Which is more deserving of a person's or a society's time and attention? How do these levels of conflict intersect in your own life?
Only one of their deaths finally makes Jilly and Geordie realize that they can't live without one another. What has kept them from this knowledge for so long? Have you ever been able to learn or realize something crucial only in a moment of crisis? What happened to that knowledge once the crisis abated?
How appealing is the spirit world portrayed in Widdershins? Would you want it to exist parallel to our own reality, and would you want to participate in it? What are its greatest dangers, and how do they differ from the perils humans face in our world? Do you think that fairy and humans are natural enemies, and if so, in what ways?