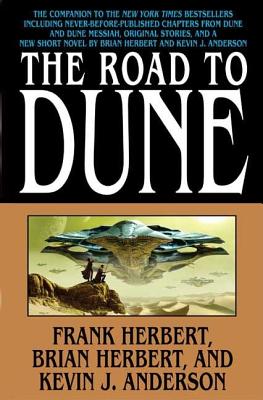 The Road to Dune (Hardcover)
Tor Books, 9780765312952, 489pp.
Publication Date: September 1, 2005
Other Editions of This Title:
Digital Audiobook (8/31/2005)
Paperback (8/29/2006)
Audio Cassette (8/11/2005)
Compact Disc (8/11/2005)
* Individual store prices may vary.
Description
Including never-before-published chapters from Dune and Dune Messiah, original stories, and a new short novel by Brian Herbert and Kevin J. Anderson
Frank Herbert's "Dune" is widely known as the science fiction equivalent of "The Lord of the Rings," and "The Road to Dune" is a companion work comparable to "The Silmarillion," shedding light on and following the remarkable development of the bestselling science fiction novel of all time.
Herein, the world's millions of "Dune" fans can now read---at long last---the unpublished chapters and scenes from "Dune" and "Dune Messiah." "The Road to Dune" also includes the original correspondence between Frank Herbert and famed editor John W. Campbell, Jr.; excerpts from Herbert's correspondence during his years-long struggle to get his innovative work published; and the article "They Stopped the Moving Sands," Herbert's original inspiration for "Dune."
"The Road to Dune" features newly discovered papers and manuscripts of Frank Herbert, and also "Spice Planet," an original sixty-thousand-word short novel by Brian Herbert and Kevin J. Anderson, based on a detailed outline left by Frank Herbert.
"The Road to Dune" is a treasure trove of essays, articles, and fiction that every reader of "Dune" will want to add to their shelf.
About the Author
Brian Herbert, the author of numerous novels and short stories, has been critically acclaimed by leading reviewers in the United States and around the world. The eldest son of science fiction superstar Frank Herbert, he, with Kevin J. Anderson, is the author of "Hellhole" and continues his father's beloved Dune series with books including "The Winds of Dune," "House Atreides," "Sandworms of Dune," among other bestsellers. He also wrote a biography of his father, "Dreamer of Dune." Herbert graduated from high school at age 16, and then attended U.C. Berkeley, where he earned a B.A. in Sociology. Besides an author, Herbert has been an editor, business manager, board game inventor, creative consultant for television and collectible card games, insurance agent, award-winning encyclopedia salesman, waiter, busboy, maid and a printer. He and his wife once owned a double-decker London bus, which they converted into an unusual gift shop. Herbert and his wife, Jan, have three daughters. They live in Washington state.
Praise For The Road to Dune…
"One of the monuments of modern science fiction."--Chicago Tribune on Dune

"I know nothing comparable to it except Lord of the Rings."--Arthur C. Clarke on Dune

"A portrayal of an alien society more complete and deeply detailed than any other author in the field has managed . . . a story absorbing equally for its actiona nd philosophical vistas. . . . An astonishing science fiction phenomenon."--The Washington Post on Dune

"Powerful, convincing, and most ingenious."--Robert A. Heinlein on Dune

"Herbert's creation of this universe, with its intricate development and analysis of ecology, religion, politics, and philosophy, remains one fo the supreme and seminal achievements in science fiction."--Louisville Times on Dune
or
Not Currently Available for Direct Purchase