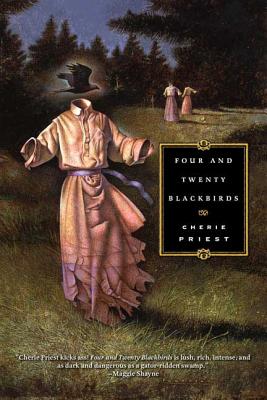 Four and Twenty Blackbirds (Eden Moore #1)
Paperback

* Individual store prices may vary.
Description
Although she was orphaned at birth, Eden Moore is never alone. Three dead women watch from the shadows, bound to protect her from harm. But in the woods a gunman waits, convinced that Eden is destined to follow her wicked great-grandfather--an African magician with the power to curse the living and raise the dead.

Now Eden must decipher the secret of the ghostly trio before a new enemy more dangerous than the fanatical assassin destroys what is left of her family. She will sift through lies in a Georgian ante-bellum mansion and climb through the haunted ruins of a 19th century hospital, desperately seeking the truth that will save her beloved aunt from the curse that threatens her life.
Praise For Four and Twenty Blackbirds (Eden Moore #1)…
"Cherie Priest kicks ass! Four and Twenty Blackbirds is lush, rich, intense, and as dark and dangerous as a gator-ridden swamp." —Maggie Shayne, New York Times bestselling author of Blue Twilight

"Fine writing, humor, thrills, real scares, the touch of the occult . . . had me from the first page. I read straight through. An absolutely wonderful debut, and a book not to be missed." —Heather Graham, New York Times bestselling author of Haunted

"Cherie Priest has created a chilling page-turner in her debut novel. Her voice is rich, earthy, soulful, and deliciously southern as she weaves a disturbing yarn like a master! Awesome-gives you goosebumps!" —L.A. Banks, author of Minion and The Vampire Huntress Legend Series

"Spooky and engrossing, this revenge play is as sticky as a salmagundi made from blood and swamp dirt. Priest can write scenes that are jump-out-of-your-skin scary. This is the first installment in what I can only hope will be a long and terrifying friendship." —Cory Doctorow, author of Someone Comes to Town, Someone Leaves Town

"Wonderful. Enchanting. Amazing and original fiction that will satisfy that buttery Southern taste, as well as that biting aftertaste of the dark side. I loved it." —Joe R. Lansdale, Stoker- and Edgar-winning author of The Bottoms

"Breathlessly readable, palpably atmospheric and compellingly suspenseful, Four and Twenty Blackbirds is a considerable debut. It's written with great control and fluency, and it looks like the start of quite a career." —Ramsey Campbell, World Horror Grand Master

"Cherie Priest has mastered the art of braiding atmosphere, suspense and metaphysics into a resonant ghost story that offers even more than what you hope for." —Katherine Ramsland, bestselling author of GHOST: Investigating the Other Side

"Southern Gothic at its best. An absorbing mystery told with humour and bite." —Kelley Armstrong, author of Industrial Magic and the Otherworld series

"Four and Twenty Blackbirds is a rare bird, the novel you wish you'd written yourself--excellent!" —C.J. Henderson, author of The Things That Are Not There

"Four and Twenty Blackbirds is an extraordinary first novel-heck, it's an extraordinary novel, period. It's a ghost story and a voodoo mystery-and like any good Southern Gothic, it has a healthy obsession with race and inbreeding. But Blackbirds is more than the sum of its traditional parts. Cherie Priest's writing, while decidedly capable of giving you the creeps, is infused with a refreshing spunkiness and interesting, believable characters . . . . Fans of supernatural horror should keep an eye on Cherie Priest!" —SciFiDimensions.com
Tor Books, 9780765313089, 288pp.
Publication Date: October 1, 2005
About the Author
Cherie Priest debuted to great acclaim with Four and Twenty Blackbirds, Wings to the Kingdom, and Not Flesh Nor Feathers, a trilogy of Southern Gothic ghost stories featuring heroine Eden Moore. She is also the author of Fathom, Dreadnought, and Boneshaker, which was nominated for a Nebula and Hugo Award and won the PNBA Award and the Locus Award for best science-fiction novel. She is an associate editor at Subterranean Press. Born in Tampa, Florida, Priest went to college at Southern Adventist University and earned her master's in rhetoric at the University of Tennessee. After spending most of her life in the southern United States, she recently moved to Seattle, Washington, with her husband, Aric, and a fat black cat named Spain.