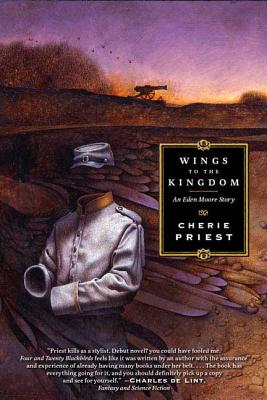 Wings to the Kingdom (Eden Moore #2) (Paperback)
Tor Books, 9780765313096, 400pp.
Publication Date: October 17, 2006
* Individual store prices may vary.
Description
The fields at Chickamauga, Georgia--America's oldest national military park--claimed 35,000 casualties during the Civil War. Any good guide will tell you that the grounds are haunted. The battlefield even has its own resident haunt, called Old Green Eyes for his tell-tale luminous gaze. It has long been said that Old Green Eyes intends no harm to those who respect the park. He is no menace, but a guardian of the dead. While he walks, the dead may sleep secure in the knowledge that their rest will be undisturbed. While Old Green Eyes patrols the battlefield, there is nothing to fear, for graves are not robbed and bones are not moved.

But suddenly a different phenomenon starts puzzling and frightening visitors, causing tours to be canceled and rangers to quit their jobs. These new ghosts are no illusions carved out of the low-rolling fog. One by one, the solemn-faced spirits in ragged uniforms show themselves, and one by one, they point a determined arm off into the distance. Why do the soldiers march again, and what has become of their unblinking custodian? The spirits need a go-between, someone who can speak to them, and for them.

Eden Moore is not interested.

But the ghosts aren't taking no for an answer.
About the Author
Cherie Priest debuted to great acclaim with Four and Twenty Blackbirds, Wings to the Kingdom, and Not Flesh Nor Feathers, a trilogy of Southern Gothic ghost stories featuring heroine Eden Moore. She is also the author of Fathom, Dreadnought, and Boneshaker, which was nominated for a Nebula and Hugo Award and won the PNBA Award and the Locus Award for best science-fiction novel. She is an associate editor at Subterranean Press. Born in Tampa, Florida, Priest went to college at Southern Adventist University and earned her master's in rhetoric at the University of Tennessee. After spending most of her life in the southern United States, she recently moved to Seattle, Washington, with her husband, Aric, and a fat black cat named Spain.
Praise For Wings to the Kingdom (Eden Moore #2)…
"Priest kills as a stylist. Debut novel? You could have fooled me. Four and Twenty Blackbirds feels like it was written by an author with the assurance and experience of already having many books under her belt . . . . the book has everything going for it and you should definitely pick up a copy to see for yourself." —Charles De Lint, Fantasy & Science Fiction on Four and Twenty Blackbirds

"Breathes fresh life into the suddenly resurgent 'I see dead people' subgenre of horror fiction. . . . a remarkably assured debut, a creepy modern-day Southern gothic that doesn't rely on cliché but delivers an emotional powerful tale of self-discovery and the supernatural." —San Francisco Chronicle

"… There's mystical, sultry appeal in the thick Chattanooga atmosphere and strong characterizations (Eden's tongue is as sharp as the heels of her signature black boots), and a mixed-race heroine lends welcome diversity to a genre well populated with porcelain-complected heroines." —Booklist on Four and Twenty Blackbirds

"The classic Southern gothic gets an edgy modern makeover in Priest's debut novel . . . . neo-goth chick Eden [is] a heroine for the aging Buffy crowd." —Publishers Weekly on Four and Twenty Blackbirds

"Southern Gothic at its best. An absorbing mystery told with humour and bite." —Kelley Armstrong on Four and Twenty Blackbirds

"Cherie Priest has created a chilling page-turner in her debut novel. Her voice is rich, earthy, soulful, and deliciously southern as she weaves a disturbing yarn like a master! Awesome—gives you goosebumps!" —L.A. Banks on Four and Twenty Blackbirds

"Breathlessly readable, palpably atmospheric and compellingly suspenseful, Four and Twenty Blackbirds is a considerable debut. It's written with great control and fluency, and it looks like the start of quite a career." —Ramsey Campbell, World Horror Grand Master, on Four and Twenty Blackbirds

"Spooky and engrossing, this revenge play is as sticky as a salmagundi made from blood and swamp dirt. Priest can write scenes that are jump-out-of-your-skin scary. This is the first installment in what I can only hope will be a long and terrifying friendship." —Cory Doctorow on Four and Twenty Blackbirds

"Fine writing, humor, thrills, real scares, the touch of the occult . . . had me from the first page. I read straight through. An absolutely wonderful debut, and a book not to be missed." —Heather Graham, New York Times bestselling author of Haunted, on Four and Twenty Blackbirds

"Wonderful. Enchanting. Amazing and original fiction that will satisfy that buttery Southern taste, as well as that biting aftertaste of the dark side. I loved it." —Joe R. Lansdale on Four and Twenty Blackbirds

"Cherie Priest kicks ass! Four and Twenty Blackbirds is lush, rich, intense, and as dark and dangerous as a gator-ridden swamp." —Maggie Shayne on Four and Twenty Blackbirds