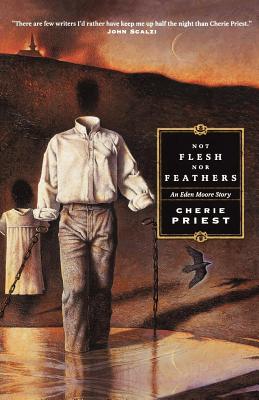 Not Flesh Nor Feathers (Paperback)
Tor Books, 9780765313102, 365pp.
Publication Date: October 2, 2007
Description
Down by the river, the first to go missing were not much lamented. Disappearances of homeless men foraging through trash or nuisance skater kids who rolled their boards along the planked piers at night were not noteworthy enough to delay the city's development projects.
But deep beneath the riverbank, the evidence of a terrible crime has been covered up twice. When a TVA dam falters and the river swells, panic rises downtown. As the Tennessee creeps over its banks, it dredges up death from its own polluted bed. Twenty-nine victims of a long-ago slaughter walk when the water rises, patrolling the banks and dragging the living down to a muddy grave. No one remembers how they died and no one knows what they want.
Some secrets are never washed away. Instead they are patient, biding their time. They wait for the water to lift them so they can prowl for the justice that was denied them ninety years ago. But in ninety years a city's shape changes, and where justice can no longer be found, vengeance may have to suffice.
The city of Chattanooga is about to learn a terrible truth about the things a river can and cannot hide . And reluctant medium Eden Moore may be the only one who can dissuade the twenty- nine bodies from adding hundreds of its citizens to their ghastly ranks.
"Not Flesh Nor Feathers" is a stand-alone sequel to "Four and Twenty Blackbirds" and "Wings to the Kingdom.
About the Author
Cherie Priest debuted to great acclaim with Four and Twenty Blackbirds and Wings to the Kingdom. She is also the author of the near-contemporary fantasy Fathom, Dreadnought and Boneshaker, which was nominated for a Nebula and Hugo Award, won the Locus Award for best science-fiction novel, and was named Steampunk Book of the Year by steampunk.com. Born in Tampa, Florida, Priest earned her master's in rhetoric at the University of Tennessee. She lives in Seattle, Washington, with her husband, Aric, and a fat black cat named Spain.
Praise For Not Flesh Nor Feathers…
"A remarkably assured debut, a creepy modern-day Southern gothic that doesn't rely on cliché but delivers an emotionally powerful tale of self-discovery and the supernatural." --San Francisco Chronicle on Four and Twenty Blackbirds

"Wings to the Kingdom is not precisely a sequel, but a second chapter set in Eden's overlapping worlds--Priest's beautifully detailed culture of the South, and the world of the dead: immediately adjacent, and always visible to Eden. Wings is more firmly based in the physical world than Blackbirds was, but it's every bit as fascinating. Once again, Priest succeeds in making her story both straightforward and exquisitely strange." --Green Man Review

"Priest kills as a stylist. Debut novel? You could have fooled me. Four and Twenty Blackbirds feels like it was written by an author with the assurance and experience of already having many books under her belt . . . . the book has everything going for it and you should definitely pick up a copy to see for yourself." --Charles De Lint, Fantasy & Science Fiction on Four and Twenty Blackbirds

"There's mystical, sultry appeal in the thick Chattanooga atmosphere and strong characterizations (Eden's tongue is as sharp as the heels of her signature black boots), and a mixed-race heroine lends welcome diversity to a genre well populated with porcelain-complected heroines.... Girl-goths will devour this whole, but also suggest it as a larky follow-up to forced readings of Harper Lee, William Faulkner, and the like." -Booklist on Four and Twenty Blackbirds

"The classic Southern gothic gets an edgy modern makeover in Priest's debut novel about a young woman's investigation into the truth of her origins.... Eden is a heroine for the aging Buffy crowd." --Publishers Weekly on Four and Twenty Blackbirds

"Wonderful. Enchanting. Amazing and original fiction that will satisfy that buttery Southern taste, as well as that biting aftertaste of the dark side. I loved it." --Joe R. Lansdale, Bram Stoker and Edgar Award-winning author of The Bottoms, on Four and Twenty Blackbirds
Advertisement