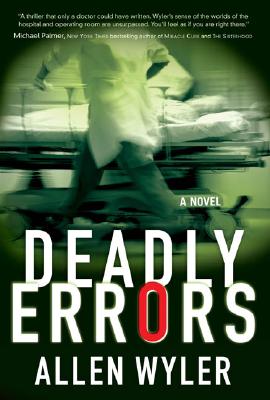 Deadly Errors (Hardcover)
Forge Books, 9780765313119, 336pp.
Publication Date: July 14, 2005
* Individual store prices may vary.
Description
Brain surgeon Allen Wyler has written a thriller on the bleeding edge of new-millennium hospital technology.

When a brain surgeon discovers that a revolutionary computerized medical-records system is responsible for a series of patient deaths---and threatens many more---he must navigate a treacherous maze of conspiracy. And risk his life to expose it.

* A comatose man is given a fatal dose of insulin in the Emergency Room---even though he isn't diabetic.

* An ulcer patient dies of hemolytic shock after receiving a transfusion---of the wrong blood type.

* A recovering heart patient receives a double dose of the same medication---triggering a fatal cardiac arrest.

When the doctors and nurses at Seattle's prestigious Maynard Medical Center start making preventable drug and treatment errors that kill their patients, neurosurgeon Dr. Tyler Mathews suspects that something is murderously wrong with the hospital's highly touted new "Med-InDx" electronic medical record. But when he airs his concerns to the hospital's upper management, he's met with stonewalling, skepticism---and threats.

Millions of dollars, and the future of Med-InDx, are at stake. And powerful corporate forces aren't about to let their potential profits evaporate. Tyler soon finds that his career, his marriage, and his very life are in jeopardy---along with the lives of countless innocent patients.
About the Author
Dr. Allen Wyler is an internationally renowned brain surgeon with over thirty years of experience and is recognized for his pioneering work in the field of neurosurgery. He is currently medical director of Northstar Neuroscience, a biotech firm in Seattle, Washington.
Praise For Deadly Errors…
"A thriller that only a doctor could have written. Wyler's sense of the worlds of the hospital and operating room are unsurpassed. You'll feel as if you are right there."
---Michael Palmer, New York Times bestselling author of Miracle Cure and The Sisterhood

"Deadly Errors has a fascinating and frightening premise that gives it the potential to be a bestseller in the Robin Cook mold."
---William Dietrich, author of Hadrian's Wall

"Deadly Errors is a wild and satisfying ride! An up-all-night pass into troubled places that only hardworking doctors know about, a turbulent world of trusting patients and imperfect humans struggling with the required image of perfection. Only a gifted surgeon could craft such a wild and wonderful medical thriller!"
---John J. Nance, New York Times bestselling author of Pandora's Clock

"Just when you thought it was safe to go back and have your tonsils removed, Dr. Allen Wyler writes a fast-paced thriller that reawakens your scariest misgivings about the Medical-Industrial Complex and the profit motive corrupting the art of healing. This is a story told with authority by an insider, an unsettling backstage tour through the labyrinth of that place we have come to both fear and revere---the American hospital."
---Darryl Ponicsan, author of The Last Detail

"Deadly Errors will curl your toes and make you afraid to enter the hospital for even a minor procedure. No one can write operating room scenes like Allen Wyler. You couldn't get any closer to the action if you scrubbed in and held a retractor."
---Don Donaldson, author of Do No Harm and In the Blood
or
Not Currently Available for Direct Purchase