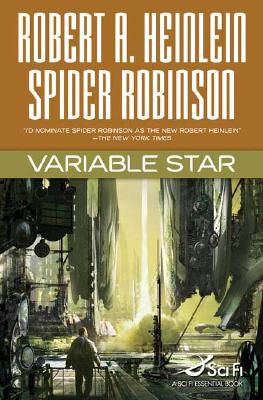 Variable Star (Hardcover)
Tor Books, 9780765313126, 320pp.
Publication Date: September 19, 2006
Other Editions of This Title:
Paperback (1/15/2019)
Paperback (11/27/2007)
Compact Disc (5/1/2007)
Audio Cassette (5/1/2007)
Audio Cassette (5/1/2007)
MP3 CD (5/1/2007)
Compact Disc (5/1/2007)
* Individual store prices may vary.
Description
A never-before-published masterpiece from science fiction's greatest writer, rediscovered after more than half a century.
When Joel Johnston first met Jinny Hamilton, it seemed like a dream come true. And when she finally agreed to marry him, he felt like the luckiest man in the universe.
There was just one small problem. He was broke. His only goal in life was to become a composer, and he knew it would take years before he was earning enough to support a family.
But Jinny wasn't willing to wait. And when Joel asked her what they were going to do for money, she gave him a most unexpected answer. She told him that her name wasn't really Jinny Hamilton---it was Jinny Conrad, and she was the granddaughter of Richard Conrad, the wealthiest man in the solar system.
And now that she was sure that Joel loved her for herself, not for her wealth, she revealed her family's plans for him---he would be groomed for a place in the vast Conrad empire and sire a dynasty to carry on the family business.
Most men would have jumped at the opportunity. But Joel Johnston wasn't most men. To Jinny's surprise, and even his own, he turned down her generous offer and then set off on the mother of all benders. And woke up on a colony ship heading out into space, torn between regret over his rash decision and his determination to forget Jinny and make a life for himself among the stars.
He was on his way to succeeding when his plans--and the plans of billions of others--were shattered by a cosmic cataclysm so devastating it would take all of humanity's strength and ingenuity just to survive.

About the Author
Robert A. Heinlein is universally acknowledged as modern science fiction's greatest author. At his death, in 1987, he left a legacy of books and stories that has profoundly influenced the course of the field for generations.

But one of Heinlein's most ambitious works was never finished. In 1955, he began work on a novel to be titled "Variable Star, " completing a detailed outline and making extensive notes for the book, only to set it aside to focus on other novels, including "Tunnel in the Sky" and the Hugo Award-winning "Double Star." For more than half a century, the work lay forgotten among Heinlein's papers. Then, on its rediscovery a few years ago, the Robert A. Heinlein Trust selected an author to finish the work.

The author chosen for the project was, appropriately enough, a writer "The New York Times" has hailed as "the New Robert Heinlein"--Spider Robinson, the Hugo and Nebula Award--winning author of such modern SF classics as "Stardance" and "Melancholy Elephants." Faithful to the spirit of Heinlein's original vision, and laced with contemporary touches that will appeal to modern readers, "Variable Star" is a rare treat for the Grand Master's many fans.

Profits from the book will help fund the annual $500,000 Heinlein Prize for innovation in commercial manned spaceflight, a goal Mr. Heinlein considered crucial to humanity's long-term survival.
Praise For Variable Star…
"Completing a book from notes by a dead author is almost always a mistake. But Robert A. Heinlein apparently isn't really dead. He was obviously standing at the side of Spider Robinson as he wrote this book, guiding his hand. Variable Star will delight the fans of the greatest science fiction writer who ever lived, and at the same time, stays true to Spider's passionate themes of optimism, kindness, and humanity's future among the stars."--John Varley, Hugo and Nebula Award-winning author of The Persistence of Vision and Steel Beach

"I've already laughed hard and wanted to cry….This book is a delight and I love you for doing it. I love you even more for doing it so damned well. Thank you."--David Crosby, Grammy Award--winning singer/songwriter and member of The Byrds and Crosby, Stills & Nash





"Variable Star will delight the fans of the greatest science fiction writer who ever lived."



"This book is a delight."
Book Videos
or
Not Currently Available for Direct Purchase