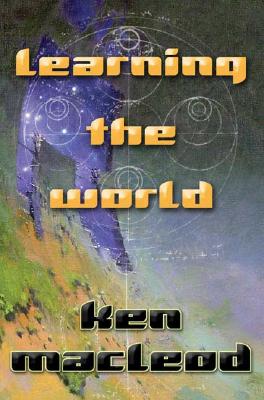 Learning the World (Hardcover)
A Scientific Romance
Tor Books, 9780765313317, 304pp.
Publication Date: October 27, 2005
* Individual store prices may vary.
or
Not Currently Available for Direct Purchase
Description
Humanity has spread to every star within 500 light-years of its half-forgotten origin, coloring the sky with a haze of habitats. Societies rise and fall. Incautious experiments burn fast and fade. On the fringes, less modified humans get on with the job of settling a universe that has, so far, been empty of intelligent life.

The ancient starship But the Sky, My Lady! The Sky! is entering orbit around a promising new system after a four hundred year journey. For its long-lived inhabitants, the centuries have been busy. Now a younger generation is eager to settle the system. The ship is a seed-pod ready to burst.

Then they detect curious electromagnetic emissions from the system's Earth-like world. As the nature of the signals becomes clear, the choices facing the humans become stark.

On Ground, second world from the sun, a young astronomer searches for his system's outermost planet. A moving point of light thrills, then disappoints him. It's only a comet. His physicist colleague Orro takes time off from trying to invent a flying-machine to calculate the comet's trajectory. Something is very odd about that comet's path.

They are not the only ones for whom the world has changed.

"We are not living in the universe we thought we lived in yesterday. We have to start learning the world all over again."
About the Author
Ken MacLeod holds a degree in zoology and has worked in the fields of biomechanics and computer programming. His first two novels, "The Star Fraction" and "The Stone Canal, " each won the Prometheus Award; "The Cassini Division" was a finalist for the Nebula Award; and "The Sky Road" won the British Science Fiction Association Award and was a finalist for the Hugo Award, as were his next two novels, "Cosmonaut Keep" and "Dark Light." His most recent novel is "Newton""'s Wake." Ken MacLeod lives near Edinburgh, Scotland, with his wife and children.
Praise For Learning the World: A Scientific Romance…
"Ken MacLeod's novels are fast, funny and sophisticated. There can never be enough books like these."
--Kim Stanley Robinson

"Far more fun than deep space drama has any right to be…Just read the book. Then read it again. It's even better the second time."
--SFX on Newton's Wake

"MacLeod's inventiveness, verbal playfulness, and bloody-minded irony never flag for a moment."
--Locus on Engine City

"Ken MacLeod doesn't just create believable futures--he breaks them down to explain what makes them tick."
--Wired

"Stylish, witty, and engaging!"
--San Diego Union Tribune on Newton's Wake

"Science fiction's freshest new writer…MacLeod is a fiercely intelligent, prodigously well-read author who manages to fill his books with big issues without weighing them down."
--Salon on Ken MacLeod

"Ken MacLeod brings dramatic life to some of the core issues of technology and humanity."
--Vernor Vinge

"For my money, Ken MacLeod is the current champion of the very smartest kind of New Space Opera: a relentlessly engaged thinker about nitty-gritty political-economic-social matters who also operates on the Romantic end of the genre by imagining worlds that offer vast (and even godlike) possibilities for humankind."
--Locus on Ken MacLeod
Advertisement