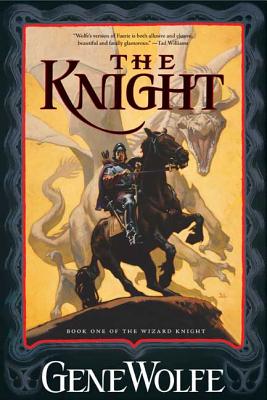 The Knight (Paperback)
Book One of The Wizard Knight
Tor Books, 9780765313485, 432pp.
Publication Date: January 1, 2005
Other Editions of This Title:
Digital Audiobook (9/17/2018)
Hardcover (1/1/2004)
Paperback (8/1/2005)
* Individual store prices may vary.
Description
A young man in his teens is transported from our world to a magical realm that contains seven levels of reality. Very quickly transformed by magic into a grown man of heroic proportions, he takes the name Able and sets out on a quest to find the sword that has been promised to him, a sword he will get from a dragon, the one very special blade that will help him fulfill his life ambition to become a knight and a true hero.
Inside, however, Able remains a boy, and he must grow in every sense to survive the dangers and delights that lie ahead in encounters with giants, elves, wizards, and dragons. His adventure will conclude in the second volume of The Wizard Knight, The Wizard.
With this new series, Wolfe not only surpasses all the most popular genre writers of the last three decades, he takes on the legends of the past century, in a work that will be favorably compared with the best of J. R. R. Tolkien, E. R. Eddison, Mervyn Peake, and T. H. White. This is a book---and a series---for the ages, from perhaps the greatest living writer in (or outside) the fantasy genre.
About the Author
Gene Wolfe (1931-2019) was the Nebula Award-winning author of The Book of the New Sun tetralogy in the Solar Cycle, as well as the World Fantasy Award winners The Shadow of the Torturer and Soldier of Sidon. He was also a prolific writer of distinguished short fiction, which has been collected in such award-winning volumes as Storeys from the Old Hotel and The Best of Gene Wolfe.
A recipient of the World Fantasy Award for Life Achievement, the Edward E. Smith Memorial Award, and six Locus Awards, among many other honors, Wolfe was inducted into the Science Fiction Hall of Fame in 2007, and named Grand Master by the Science Fiction and Fantasy Writers of America in 2012.
Praise For The Knight: Book One of The Wizard Knight…
"The Knight is astonishing: deep, involving, humane, and absolutely original. This is the start of something big." —Michael Swanwick
"Great fiction flows from Gene Wolfe as from a fountain under high pressure. The Knight is his latest superb novel, non-stop action of a surreal majesty. By the time he's done, knights and wizards will never seem the same." —Kim Stanley Robinson
"A grand adventure that combines classic elements with a fresh, highly imaginative approach. I can't wait to read the next book." —Brian Herbert
"Sir Able of the High Heart is unlike any other hero, part Candide and part Conan the Barbarian, and the worlds in which he travels are also appropriately unique. Most writers of the fantastic do their best to create magical lands. Gene Wolfe actually knows how to cross over and -- luckily for us -- invites us to come along with him. Wolfe's version of Faerie is both allusive and elusive, beautiful and fatally glamorous." —Tad Williams
"An absorbing meditation on honor and manhood that's not only Wolfe at his literate best, but romantic, charming, and exciting to boot." —Delia Sherman
"It took me about a page and a quarter to completely enter the world Wolfe creates in The Knight. Having arrived, I believe I'll spend the rest of my life here." —Steven Brust
"[Gene Wolfe] was producing fiction of immense, Nabokovian rigor and complexity thirty years ago. The Knight proves he still is." —Peter Straub
"Gene Wolfe is the smartest, subtlest, most dangerous writer alive today, in genre or out of it. If you don't read this book you'll have missed out on something important and wonderful and all the cool people will laugh at you." —Neil Gaiman
"Gene Wolfe's The Knight. . . breaks like a thunderclap over the safe suburban sprawl of franchise fantasy. This is the real thing, boys and girls. Are you ready? It will scare the daylights out of you, take your breath away, make you laugh aloud and give you honest-to-goodness tears. You will devour it and discover just how hungry you have been." —Patrick O'Leary, author of The Impossible Bird