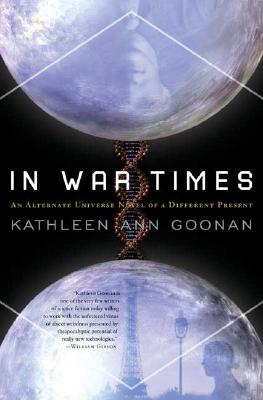 In War Times
Hardcover

* Individual store prices may vary.
Other Editions of This Title:
Paperback (8/21/2012)
Description
Sam Dance is a young enlisted soldier in 1941 when his older brother Keenan is killed at Pearl Harbor. Afterwards, Sam promises that he will do anything he can to stop the war.

During his training, Sam begins to show that he has a knack for science and engineering, and he is plucked from the daily grunt work of twenty-mile marches by his superiors to study subjects like code breaking, electronics, and physics in particular, a science that is growing more important to the war effort. While studying, Sam is seduced by a mysterious female physicist that is teaching one of his courses, and given her plans for a device that will end the war, perhaps even end the human predilection for war forever. But the device does something less, and more, than that.

After his training, Sam is sent throughout Europe to solve both theoretical and practical problems for the Allies. He spends his free time playing jazz, and trying to construct the strange device. It's only much later that he discovers that it worked, but in a way that he could have never imagined.
Praise For In War Times…
"Kathleen Goonan is one of the very few writers of science fiction, today, willing to work with the unfettered vistas of abject weirdness presented by the apocalyptic potential of really new technologies."
--William Gibson

"Goonan is one of the most imaginative authors in the literature of the imagination."
--David Brin

"In the hands of Kathleen Ann Goonan, the science of science fiction becomes something lyrical and vividly human, and the intricately imagined future she presents is thus rendered completely plausible and poignant in the extreme." --Lucius Shepard

"Only Kathleen Goonan could have created this complex interweaving of jazz, physics, love, and war."
--Joe Haldeman on In War Times
Tor Books, 9780765313553, 352pp.
Publication Date: May 15, 2007
About the Author
Kathleen Ann Goonan burst into prominence with "Queen City Jazz," the start of her Nanotech Quartet. "The Bones of Time," her widely acclaimed second novel, was a finalist for the Arthur C. Clarke Award in 2000. "Crescent""""City"" Rhapsody" (third in the Quartet) was a Nebula nominee, while "Light Music," the conclusion of the series, was described by Booklist as the "brilliant conclusion to a tetralogy as consequential in sf as Kim Stanley Robinson's Mars trilogy." She and her husband divide their time between homes in Tennessee and in the Florida Keys.
or
Not Currently Available for Direct Purchase