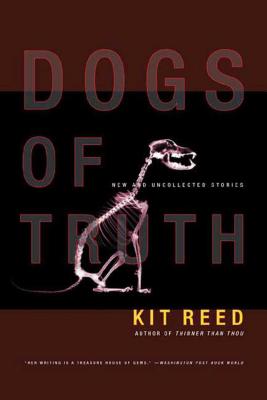 Dogs of Truth (Paperback)
New and Uncollected Stories
Tor Books, 9780765314147, 288pp.
Publication Date: September 1, 2005
* Individual store prices may vary.
Description
The Dogs of Truth contains 17 new or previously uncollected short stories. Included are "High Rise High," about a student revolt at the ultimate "secure" high school; "Focus Group," where a star-struck fan dictates the fate of soap opera characters through a biochip implant; "Escape from Shark Island," which looks at an extreme version of today's trendy "family bed;" and "Precautions," where germ-phobia reigns supreme.
The new stories tell of the "Grand Opening" of the world's largest mega-mall, study the relationship of a writer and his muse in "Getting It Back," and, in "The Shop of Little Horrors," take a dark look at the child-free lifestyle.
About the Author
Kit Reed (1932-2017) is the author of the Alex Award-winning Thinner Than Thou and many other novels, including The Night Children, her first young adult work. Reed has been nominated for the World Fantasy Award and has been a James W. Tiptree Award finalist. Kit Reed lived in Middletown, CT, and was Resident Writer at Wesleyan University.
Praise For Dogs of Truth: New and Uncollected Stories…
"Her writing is a treasure house of gems." —Washington Post Book World
"Beauty pageants, hi-tech motherhood, fat farms, game shows-nothing involved in shaping women's expectations is immune from her scrutiny. Most of these stories shine with incisive edginess. Visionary, uncovering humor and horror." —The New York Times Book Review on Weird Women, Wired Women
"Super-Size Me' meets 'Soylent Green." —Entertaintment Weekly on Thinner Than Thou
"A clever what-if, Reed's tale is provocative as well as amusing." —People on Thinner Than Thou
"Health clubs replace houses of worship in Kit Reed's not-so-science-fiction novel Thinner Than Thou." —Vanity Fair on Thinner Than Thou
"Reed's latest is an "if this continues" dystopia in the tradition of John Brunner's The Sheep Look Up or Margaret Atwood's The Handmaid's Tale. Reed has a singular gift for this kind of Swiftian satire, and her book is as funny as it is outraged." —San Francisco Chronicle on Thinner Than Thou
"Sink your teeth into this delicious story, a wild, irresistible ride through a not implausible dystopic future." —M. G. Lord, New York Times bestselling author on Thinner Than Thou
"When a novel convincingly alters your perspective, it's fair to call it a success. Thinner Than Thou reminds us how shallow beauty can be when it loses its context in body, mind and spirit." —The Philadephia Inquirer
"This particular satire is Reed at her mordant best. A timely, witty page-turner which tells us the truth about ourselves and our society while making us laugh aloud." —Michael Moorcock on Thinner Than Thou