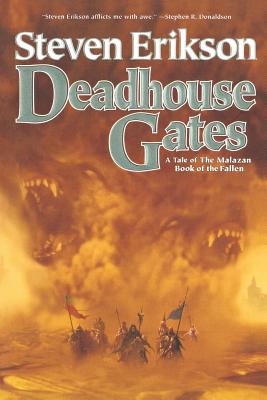 Deadhouse Gates
Book Two of The Malazan Book of the Fallen
Paperback

* Individual store prices may vary.
Other Editions of This Title:
Mass Market (2/7/2006)
MP3 CD (3/5/2013)
MP3 CD (4/8/2014)
Hardcover (1/27/2005)
Compact Disc (3/1/2014)
Compact Disc (3/5/2013)
MP3 CD (3/5/2013)
Compact Disc (3/5/2013)
Description
The second novel in the awe-inspiring Malazan Book of the Fallen series. "Gripping, fast-moving, delightfully dark, with a masterful and unapologetic brutality reminiscent of George R. R. Martin." -- Elizabeth Haydon

In the vast dominion of Seven Cities, in the Holy Desert Raraku, the seer Sha'ik and her followers prepare for the long-prophesied uprising known as the Whirlwind. Unprecedented in size and savagery, this maelstrom of fanaticism and bloodlust will embroil the Malazan Empire in one of the bloodiest conflicts it has ever known, shaping destinies and giving birth to legends . . .

Set in a brilliantly realized world ravaged by dark, uncontrollable magic, Deadhouse Gates is a novel of war, intrigue and betrayal confirms Steven Eirkson as a storyteller of breathtaking skill, imagination and originality--a new master of epic fantasy.
Praise For Deadhouse Gates: Book Two of The Malazan Book of the Fallen…
"Give me the evocation of a rich, complex and yet ultimately unknowable other world, with a compelling suggestion of intricate history and mythology and lore. Give me mystery amid the grand narrative. Give me a world in which every sea hides a crumbled Atlantis, every ruin has a tale to tell, every mattock blade is a silent legacy of struggles unknown. Give me, in other words, the fantasy work of Steven Erikson. Erikson is a master of lost and forgotten epochs, a weaver of ancient epics on a scale that would approach absurdity if it wasn't so much fun." —Andrew Leonard, Salon.com on The Malazan Book of the Fallen

"Steven Erikson afflicts me with awe. Vast in scope, almost frighteningly fecund in imagination, and rich in sympathy, his work does something that only the rarest of books can manage: it alters the reader's perceptions of reality." —Stephen R. Donaldson on Deadhouse Gates

"I stand slack-jawed in awe of The Malazan Book of the Fallen. This masterwork of imagination may be the high water mark of epic fantasy. This marathon of ambition has a depth and breadth and sense of vast reaches of inimical time unlike anything else available today. The Black Company, Zelazny's Amber, Vance's Dying Earth, and other mighty drumbeats are but foreshadowings of this dark dragon's hoard." —Glen Cook on The Malazan Book of the Fallen

"One of the best fantasy novels of the year." —SF Site on Deadhouse Gates

"Rare is the writer who so fluidly combines a sense of mythic power and depth of world, with fully realized characters and thrilling action, but Steven Erikson manages it spectacularly. The books are reminiscent of Tolkein's scope, Zelazny's cleverness and wit, and Donaldson's brooding atmospherics; yet all combined with dazzling talent into a narrative flow that keeps the reader turning pages. Some writers open windows on worlds, Erikson opens worlds and makes them so real, so magical, you're not sure if you can escape-and I don't want to." —Michael A. Stackpole on Deadhouse Gates

"Such is the impact of the first book in Erikson's monumental Malazan saga, Gardens of the Moon, that the achievement of this sequel is doubly surprising. Not only is the vigour and sweep of the earlier book effortlessly captured, the complex plot is simultaneously deepened and accelerated, with a grasp of tempo that has the reader inexorably gripped . . . Roll on, book three!" —The Good Book Guide on Deadhouse Gates
Tor Books, 9780765314291, 608pp.
Publication Date: February 1, 2005
About the Author
Steven Erikson is an archaeologist and anthropologist and a graduate of the Iowa Writers' Workshop. His Malazan Book of the Fallen series, including The Crippled God, Dust of Dreams, Toll the Hounds and Reaper's Gale, have met with widespread international acclaim and established him as a major voice in the world of fantasy fiction. The first book in the series, Gardens of the Moon, was shortlisted for a World Fantasy Award. The second novel, Deadhouse Gates, was voted one of the ten best fantasy novels of 2000 by SF Site. He lives in Canada.