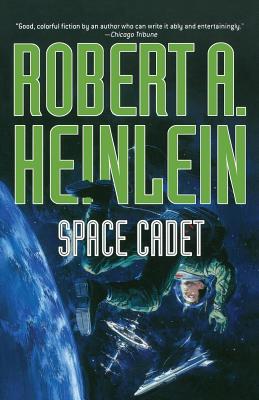 Space Cadet (Paperback)
Orb Books, 9780765314512, 224pp.
Publication Date: October 31, 2006
* Individual store prices may vary.
Description
Space Cadet is the seminal novel of a young man's education as a member of an elite, paternalistic non-military organization of leaders dedicated to preserving human civilization, the Solar Patrol, from the science fiction grandmaster.
Only the best and brightest--the strongest and the most courageous--ever manage to become Space Cadets, at the Space Academy. They are in training to be come part of the elite guard of the solar system, accepting missions others fear, taking risks no others dare, and upholding the peace of the solar system for the benefit of all.
But before Matt Dodson can earn his rightful place in the ranks, his mettle is to be tested in the most severe and extraordinary ways--ways that change him forever, from the midwestern American boy into a man of the Solar Patrol.
A provocative parallel to Heinlein's famous later novel, Starship Troopers (which is about the military).
About the Author
Robert A. Heinlein (1907-1988) is widely acknowledged to be the most important and influential American science fiction author of the twentieth century. He won science fiction's Hugo Award for Best Novel four times, and in addition, three of his novels were given Retrospective Hugos fifty years after publication. He won Science Fiction Writers of America's first Grand Master Award for his lifetime achievement. Born in Butler, Missouri, Heinlein graduated from the United States Naval Academy and served as an officer in the navy for five years. He started writing to help pay off his mortgage, and his first story was published in Astounding Science-Fiction magazine in 1939. In 1947, he published a story in The Saturday Evening Post, making him the first science-fiction writer to break into the mainstream market. Long involved in politics, Heinlein was deeply affected by events such as the bombing of Hiroshima and Nagasaki and the Cold War, and his fiction tended to convey strong social and political messages. His many influential novels include Starship Troopers, Stranger in a Strange Land, The Moon Is a Harsh Mistress, and Time Enough for Love.
Praise For Space Cadet…
"The lively story of a group of boys--Matt and Tex, from Terra; Oscar, from Venus; Pierre, from one of Jupiter's moons; and others--who train to uphold the peace of the solar system. This account of their training and their subsequent adventures is good, colorful fiction by an author who can write it ably and entertainingly." —Chicago Tribune on Space Cadet
"Throughout the story there is a constant stream of Heinlein's noted wit and satire, superbly told . . . The Hugo Award committee need look no further." —San Francisco Chronicle on Glory Road
"Heinlein...wrote adventure stories grounded in credible scientific speculation. Even the wonderful stories collected here feature his trademark cool reasoning. . . .Superb stories - old friends, really - that are well worth the book's price." —Booklist on The Fantasies of Robert A. Heinlein