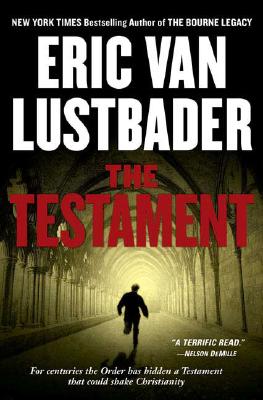 The Testament (Hardcover)
Forge Books, 9780765314635, 480pp.
Publication Date: September 5, 2006
* Individual store prices may vary.
or
Not Currently Available for Direct Purchase
Description
The new international thriller from the New York Times bestselling author of The Bourne Legacy

Braverman Shaw--"Bravo" to his friends--always knew his father had secrets. But not until Dexter Shaw dies in a mysterious explosion does Bravo discover the enormity of his father's hidden life as a high-ranking member of the Order of Gnostic Observatines, a sect founded by followers of St. Francis of Assisi and believed to have been wiped out centuries ago. For more than eight hundred years, the Order has preserved an ancient cache of documents, including a long-lost Testament attributed to Christ that could shake Christianity to its foundations. Dexter Shaw was the latest Keeper of the Testament--and Bravo is his chosen successor.

Before Dexter died, he hid the cache where only Bravo could find it. Now Bravo, an accomplished medieval scholar and cryptanalyst, must follow the esoteric clues his father left behind. His companion in this quest is Jenny Logan, a driven young woman with secrets of her own. Jenny is a Guardian, assigned by the Order to protect Bravo, or so she claims. Bravo soon learns that he can trust no one where the Testament is concerned, perhaps not even Jenny . . .

Another secret society, the Knights of St. Clement, originally founded and sponsored by the Papacy, has been after the Order's precious cache since the time of the Crusades. The Knights, agents and assassins, will stop at nothing to obtain the treasure. Bravo has become both a target and a pawn in an ongoing war far larger and more deadly than any he could have imagined.
About the Author
Eric Van Lustbader (he dropped his middle name, Van for several years due to a confusion about his last name) was born and raised in Greenwich Village. He is the author of more than twenty-five best-selling novels, including "The Ninja, "a N.Y. Times bestseller for an astounding 24 weeks, in which he introduced Nicholas Linnear, one of modern fiction's most beloved and enduring heroes. His "New York Times" bestselling novel, "The Testament," was published in September, 2006 and in paperback in August, 2007. It received rave reviews from such notable thriller writers as Nelson DeMille, Steve Berry and Joseph Finder, among others.

His novels have been translated into over twenty languages; his books are best-sellers worldwide and are so popular whole sections of bookstores from Bangkok to Dublin are devoted to them. "The Ninja" was sold to 20th Century-Fox and the producers Richard Zanuck and David Brown. It is now in pre-prduction.

In 2004, Mr. Lustbader was chosen by the estate of the late Robert Ludlum to continue the Jason Bourne novels. "The Bourne Legacy" (2005) and "The Bourne Betrayal" (2007), both instant "New York Times" bestsellers, garnered rave reviews.

He is also the author of two successful and highly regarded series of fantasy novels, "The Sunset Warrior Cycle "and "The Pearl Saga."

Besides "The Other Side of the Mirror" in the bestselling" THRILLER" anthology, he has written a number of short stories, screenplays and novellas. Three of the short stories appeared in 1999: "Hush," in "Off The Beaten Path: Stories of Place" for Farrar, Strauss and Giroux, "Slow Burn," in "Murder And Obsession" for Delacourt Press, and "An Exultation of Termagants" in the millennial supernatural mega-collection "999" for Avon Books. A short novel, "Art Kills, "was published by Carroll & Graf in December, 2001.

Mr. Lustbader is a graduate of Columbia College, with a degree in Sociology. Before turning to writing full time, he enjoyed highly successful careers in the New York City public school system, where he holds licenses in both elementary and early childhood education, and in the music business, where he worked for Elektra Records and CBS Records, among other companies. He was the first writer in the US to write about Elton John, and to predict his success. As a consequence, he and Elton and Bernie Taupin, Elton's lyricist, became friends. Writing in "Cash Box" Magazine, he also predicted the successes of such bands as Santana, Roxy Music, the Jimi Hendrix Experience, David Bowie, and The Who, among others.

In his spare time, Mr. Lustbader serves on the Board of Trustees, the Executive Committee, and is Chair of the Strategic Planning Committee of the City & Country School in Greenwich Village. He also tends his prized collection of Japanese maples and beech trees (which have been written up in "The New York Times "and" Martha Stewart's Living"). He is a Second-Level "Reiki" master. He and his wife, the author Victoria Lustbader, reside in New York City and Long Island.
Praise For The Testament…
"Eric Van Lustbader proves again that he is the master of the smart thriller. In The Testament, Lustbader takes on the oldest, newest, and biggest issue the world faces today--religious extremism--and he does it with skill, insight, and energy. A terrific read, well written, well researched, and well worth your time."--Nelson DeMille, New York Times bestselling author of Night Fall on The Testament "The Testament is a riveting tale of secret sects, religious miracles, and medieval history that blends seamlessly with today's political issues. Paced liked the wind, intelligent, and engrossing--The Testament is Eric Van Lustbader at the very top of his game."--Steve Berry, New York Times bestselling author of The Templar Legacy "One of the great thriller authors--the writer who gave us The Ninja--returns with a lightning-paced novel that reinvents the genre. His many fans will rejoice to see that Lustbader is back and at the top of his form."--Joseph Finder, New York Times bestselling author
"Lustbader remains a fine choice to fill Ludlum's large shoes, and he has delivered a work worthy of the Bourne legacy."--USA Today on The Bourne Legacy



"Paced liked the wind, intelligent, and engrossing--The Testament is Eric Van Lustbader at the very top of his game."



"One of the great thriller authors returns with a lightning-paced novel that reinvents the genre."



"A terrific read, well written, well researched, and well worth your time."
Book Videos
Advertisement