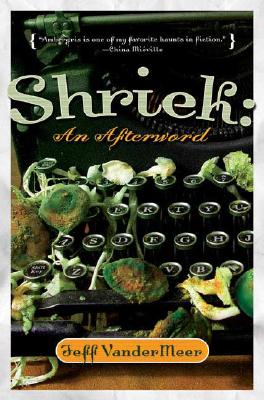 Shriek (Hardcover)
An Afterword
Tor Books, 9780765314659, 352pp.
Publication Date: August 8, 2006
Other Editions of This Title:
Paperback (9/5/2000)
* Individual store prices may vary.
Description
An epic yet personal look at several decades of life, love, and death in the imaginary city of Ambergris--previously chronicled in Jeff VanderMeer's acclaimed City of Saints & Madmen--Shriek: An Afterword relates the scandalous, heartbreaking, and horrifying secret history of two squabbling siblings and their confidantes, protectors, and enemies.

Narrated with flamboyant intensity and under increasingly urgent conditions by ex-society figure Janice Shriek, this afterword presents a vivid gallery of characters and events, emphasizing the adventures of Janice's brother Duncan, a historian obsessed with a doomed love affair and a secret that may kill or transform him; a war between rival publishing houses that will change Ambergris forever; and the gray caps, a marginalized people armed with advanced fungal technologies who have been waiting underground for their chance to mold the future of the city.

Part academic treatise, part tell-all biography, after this introduction to the Family Shriek, you'll never look at history in quite the same way again.
About the Author
Jeff VanderMeer is a two-time winner of the World Fantasy Award, as well as a past finalist for the Hugo Award, the Philip K. Dick Award, the International Horror Guild Award, the British Fantasy Award, the Bram Stoker Award, and the Theodore Sturgeon Memorial Award. His books have made the best-of lists of "Publishers Weekly, Publishers News, The ""San Francisco"" Chronicle, The ""Los Angeles"" Weekly, Locus, SF Site," and many others. His short fiction has appeared in several year's best anthologies. He lives in Tallahassee, Florida.
Praise For Shriek: An Afterword…
"Here is a desert island book, a tale you can lose yourself in for days, a novel of character in which the setting--the magnificently gritty city-state named Ambergris--proves as the light fails to be the finest character of all."
--Gene Wolfe on Shriek: An Afterword

"There's a madness in Jeff VanderMeer's literary eye, and I would be a liar if I didn't admit it seems intimately familiar. VanderMeer envisions an outlaw literature of shrieks and shouts and a screaming across the sky, worth a thousand polite and respectable mutterings. I, for one, am listening."
--Steve Erickson, author of Our Ecstatic Days and editor of the esteemed literary journal Black Clock, on Shriek: An Afterword

"An enthralling book which takes you into the vivid and superbly-realised world of Ambergris. It is in turn unsettling, moving and thrilling--with passages of writing that can be dryly funny on one page . . . and beautiful on the next."
--Clare Dudman, author of 98 Reasons for Being, on Shriek: An Afterword

"Jeff VanderMeer is an extraordinary writer. His vision of Ambergris is passionate, beautiful, complex, terrifying. What is remarkable about Shriek: An Afterword is the way it combines such surreal imagery with intensely human feeling. He writes about real people--about the real world."
--Tamar Yellin, author of The Genizah at the House of Shepher

"VanderMeer explores brilliantly, penetratingly, the frail, evanescent intersection of human understanding and historical actuality.... In the telling, Shriek: An Afterword is an exceptional novel, a tapestry of fine writing, deep psychological insight, and acute narrative excitement.... Shriek: An Afterword is a dark fantasy of tremendous distinction."
--Nick Gevers, Locus

"Jeff VanderMeer's latest is as complicated, impressive and exasperating as anything he has written....VanderMeer makes no compromises with his readers, but Shriek is twisted, darkly funny and ultimately rewarding."
--Jon Courtenay Grimwood, The Guardian

"Darkly compelling! Not to be missed."
--CNN.com on City of Saints and Madmen

"A delightful fantasia on the nature of history as it is written."
--The Washington Post on City of Saints and Madmen

"Somewhere at the intersection of pulp and Surrealism, drawing on the very best of both traditions, is Jeff VanderMeer's Ambergris. Unsettling, erudite, dark, shot through with unexpected humour, the stories engross and challenge endlessly. Ambergris is one of my favourite haunts in fiction."
--China Miéville on City of Saints and Madmen

"A rare treasure, to be tasted with both relish and respect. It is the work of an original. It's what you've been looking for."
--Michael Moorcock on City of Saints and Madmen

"Beautifully written, virtually hallucinatory work... connoisseurs of the finest in postmodern fantasy will find it enormously rewarding."
--Publisher's Weekly (starred review) on City of Saints and Madmen

"Secret Life, an utter dazzlement, demonstrates one of this literary era's defining truths, that in the hands of a brilliant writer like Jeff VanderMeer, writing fantasy can be a means of serious artistic expression. In VanderMeer's hands, it is also playful, poignant, and utterly, wildly, imaginative."
--Peter Straub

"Veniss Underground is full of beautiful sentences, black humor and terrible wonders … it marks VanderMeer as a novelist to be reckoned with."
--San Francisco Chronicle

"VanderMeer's idiosyncratic inventions derive straight from the psyche, rather than from any generic inspiration, [fueled by] his ambitious style and his vivid descriptive powers. The denouement is as powerful as any I have read… (He) could well be creating one of the dominant literary forms of the 21st century."
--The Guardian Saturday Review on Veniss Underground




"Here is a desert island book, a tale you can lose yourself in for days."

-Gene Wolfe


"An outlaw literature of shrieks and shouts and a screaming across the sky, worth a thousand polite and respectable mutterings."

-Steve Erickson


"An enthralling book....in turn unsettling, moving and thrilling....dryly funny on one page...and beautiful on the next."

-Clare Dudman


"Jeff VanderMeer is an extraordinary writer. His vision of Ambergris is passionate, beautiful, complex, terrifying."

-Tamar Yellin


"An exceptional novel, a tapestry of fine writing, deep psychological insight, and acute narrative excitement....a dark fantasy of tremendous distinction."


-Nick Gevers


"As complicated, impressive and exasperating as anything [Jeff VanderMeer] has written....twisted, darkly funny and ultimately rewarding."

-Jon Courtenay Grimwood
or
Not Currently Available for Direct Purchase