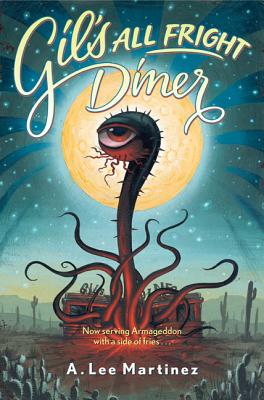 Gil's All Fright Diner
Paperback

* Individual store prices may vary.
Other Editions of This Title:
Mass Market (6/27/2006)
Description
Bloodier than Fried Green Tomatoes!
Funnier than The Texas Chainsaw Massacre!

Welcome to Gil's All Night Diner, where zombie attacks are a regular occurrence and you never know what might be lurking in the freezer . . .

Duke and Earl are just passing through Rockwood county in their pick-up truck when they stop at the Diner for a quick bite to eat. They aren't planning to stick around-until Loretta, the eatery's owner, offers them $100 to take care of her zombie problem. Given that Duke is a werewolf and Earl's a vampire, this looks right up their alley.

But the shambling dead are just the tip of a particularly spiky iceberg. Seems someone's out to drive Loretta from the Diner, and more than willing to raise a little Hell on Earth if that's what it takes. Before Duke and Earl get to the bottom of the Diner's troubles, they'll run into such otherworldly complications as undead cattle, an amorous ghost, a jailbait sorceress, and the terrifying occult power of pig-latin.

And maybe--just maybe--the End of the World, too.

Gory, sexy, and flat-out hilarious, Gil's All Fright Diner will tickle your funnybone--before ripping it out of its socket!
Praise For Gil's All Fright Diner…
"Fans of Douglas Adams will happily sink their teeth into this combo platter of raunchy laughs and ectoplasmic ecstasy." —Publishers Weekly (starred review)

"[A] laugh-out-loud comic fantasy that should appeal to fans of Terry Brooks's Landover novels." —Library Journal

"Do you know a young man twelve to seventeen years old who hates reading? This is the book for him! . . . A funfest of ghouls, zombie cattle, ghosts of various kinds, and lots of battles featuring decaying flesh and body parts. . . . Reads like the work of Douglas Adams. . . . One young reader gives highest praise: 'I buy the book . . . and read it straight through! I've never done that in my life, but I couldn't put it down.'" —Voices of Youth Advocates

"Delightfully droll, this comic romp will be a crowd-pleaser." —Booklist

"Traditional necromantic horror treated as Southwestern fun." —The San Diego Union-Tribune

"The story finds its footing through its personable likable characters and the absurdly awkward fight they put up against increasingly bizarre supernatural terrors. . . . Gil's All Fright Diner really goes the extra mile to distinguish itself from the pack, creating a unique mythology and canon rather than relying on pre-established guidelines for its various creatures. . . . It's an appetizing snack perfect for devouring quickly over a hot cop o' joe." —Fangoria

"If there's any justice in this world, Martinez is already working on a sequel to star Duke, Earl, Cathy, and the ghost of a plucky little dog." —Analog Science Fiction and Fact

"It's horror both humorous and grisly, a twisted take on small-town America and buddy adventures." —Locus

"A supernatural concoction spicier and tastier than a bowl of Texas red. . . . The funniest book you ever read about the undead, the occult, and Armageddon. . . . Martinez infuses his comic horror story with dry Texas wit, playing skillfully with the reader's expectations and the hoary conventions of the horror genre." —The Decatur Daily, Alabama

"The best book that I've read all year. . . . This is tale telling at its finest. Martinez's writing flows as smoothly as cold draught beer. I recommend this one highly." —Steve Vernon, Cemetery Dance

"Gil's All Fright Diner is a hoot of a novel. Fast-paced, Texas-wit-funny, sharply written, sharply observed. Pure blood-sweet entertainment from a Alex Martinez, a writer whose future books I look forward to." —Joe R. Lansdale, author Sunset and Sawdust

"Can a vampire find true love with a ghost? Can a teenage witch open the gates of Hell? Anything can happen in A. Lee Martinez's wacky debut." —Charlaine Harris, bestselling author of Dead to the World

"Not since Christopher Moore has anyone managed to make The Damned so damned funny. Martinez's Earl of Vampires and Duke of Werewolves are memorable characters, fully realized and totally plausible--if you believe in Texas, at least--and I hope to meet them again, and again." —Spider Robinson, bestselling author of Callahan's Con

"A rippingly wonderful novel, funny enough to wake the dead and gripping enough to captivate the living." —David Lubar
Tor Books, 9780765314710, 272pp.
Publication Date: May 1, 2005
About the Author
A. Lee Martinez is the acclaimed author of several science fiction and fantasy novel including Gil's All Fright Diner, which won the Alex Award, In the Company of Ogres, A Nameless Witch, The Automatic Detective, and Too Many Curses, among others. Martinez lives in Texas.