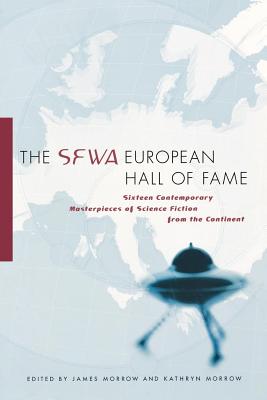 The SFWA European Hall of Fame (Paperback)
Sixteen Contemporary Masterpieces of Science Fiction from the Continent
Tor Books, 9780765315373, 336pp.
Publication Date: April 15, 2008
* Individual store prices may vary.
Description
A new SFWA Hall of Fame anthology from european contemporary masters

These powerful science fiction stories represent the best writers and stories in most of the major contemporary European languages. Editors James and Kathryn Morrow spent years working with translators to achieve sharp, polished, entertaining versions of these stories in English.

This anthology belongs in every library of SF, personal or public.

"Wondrous worlds await U.S. fans in this sensitively chosen, impeccably translated anthology of Continental European science fiction stories. These 'disciplined speculations' by European writers and their painstaking translators not only excite the mind, they move the heart." --Publishers Weekly (starred review) on The SFWA European Hall of Fame
About the Author
James Morrow is the award-winning author of over ten novels, as well as novellas and short-story collections. His critically acclaimed works include Blameless in Abaddon, New York Times Notable Book of the Year, and The Last Witchfinder called "provocative book-club bait" and "an inventive feat" by critic Janet Maslin. He has twice received the World Fantasy Award, for Only Begotten Daughter and Towing Jehovah, and has also won the Nebula Award and the Theodore Sturgeon Memorial Award. He lives in State College, Pennsylvania, with his wife and their two enigmatic dogs.

Kathryn Morrow collaborates with her husband, James Morrow. The Morrows live in Pennsylvania but have been traveling as guests to the European SF conference in Nantes, France, every year for the last decade. They have many connections among the European writers and publishers, and have worked for years to assemble the translations in The SFWA European Hall of Fame, selecting and polishing the stories.
Praise For The SFWA European Hall of Fame: Sixteen Contemporary Masterpieces of Science Fiction from the Continent…
"A ground-breaking anthology. . . . The stories in The SFWA European Hall of Fame are not quite like any sf I've read before. Like much of the best sf, these stories tend to be allegorical, often absurdist, existential, and just plain weird. . . . You would be hard pressed to find another anthology whose works were more different from one another--and from the stories you're accustomed to--than this one. It's a mind-opening journey."" —Cory Doctorow

"Wondrous worlds await US fans in this sensitively chosen, impeccably translated anthology of Continental European science fiction stories. These 'disciplined speculations' by European writers and their painstaking translators not only excite the mind, they move the heart." —Publishers Weekly, (starred review)