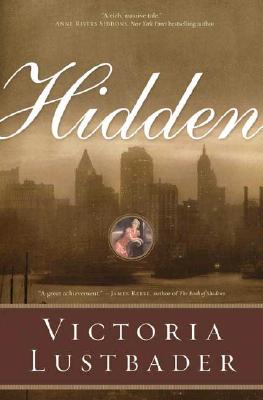 Hidden (Hardcover)
Forge Books, 9780765315564, 464pp.
Publication Date: June 13, 2006
* Individual store prices may vary.
or
Not Currently Available for Direct Purchase
Description
A captivating debut novel, Hidden marvelously re-creates New York City in the 1920s, from the hustle and bustle of the Lower East Side to the hushed hallways of the homes of the rich and powerful. In graceful, eloquent prose, Victoria Lustbader presents a fierce, compelling story of loyalty, forbidden desire and the end of innocence.
Both panoramic and intimate, Hidden teems with complex characters readers will embrace and remember for a long time to come. Concealing their passions and innermost thoughts even from those they love most dearly, the Warshinskys and Gateses love, lust, seize power, do battle, and strive to rule themselves and their city during a decade of turmoil at home and abroad.
The battlefield traumas of The Great War cement an improbable friendship between Jed Gates, scion of the wealthy Gates family, and David Warshinsky, first-generation American from New York's poverty-ridden lower East Side. David sacrifices his family and his Jewish heritage in pursuit of his untamable ambition, while, in eerie parallel, Jed sacrifices his private desires to assume the burdens of familial expectations.
David's young sister Sarah suffers the torments of a sweatshop and hardens her heart to the brother she once adored. Jed's rebellious sister Lucy becomes a nurse in Margaret Sanger's revolutionary birth control clinic. Sarah finds a tender love in sensitive Reuben Winokur, an immigrant tailor destined to prosper in his new country, but Lucy's path is more treacherous - she falls hard for David, who belongs to another.
David's mother Anna loses her struggle to preserve her shattered family, sundered by hatred and privation. And not even the Gateses' vast wealth can protect Jed's aunt Zoe from the violent abuses of her alcoholic husband, or his artist father Philip from the pain of his wife's rejection of his love and kindness.
Brilliantly evoking time, place, and person, Hidden draws readers deep into the past to illuminate the present. For nothing is more eternal than human feeling, and nothing more important to the human heart.
About the Author
"Hidden "is Victoria Lustbader's first novel. She was for many years a fiction editor at Harper & Row and The Putnam Publishing Group. Following that, she enjoyed a second career with The Nature Conservancy on Long Island and New York State. She is now a full-time writer, living in New York City and Long Island, and is married to novelist Eric Van Lustbader.
Praise For Hidden…
"It is a great achievement when a novelist manages to make the personal seem political, and the political seem personal. Victoria Lustbader achieves just this in her epic first novel, HIDDEN. With characters ranging from robber barons to spiritualists, and settings as seemingly disparate as the trenches of World War I and the concrete canyons of Manhattan, Hidden explores the impact that a world in flux has upon its citizenry. Deftly, masterfully, and with the utmost compassion, Lustbader writes of families – and a world – suffering the pangs of growth while searching for grace. Hidden is a truly spirited debut."
--James Reese, author of Book of Shadows and Book of Spirits

"Hidden is a rich, massive tale of three generations of two families the twain of which scarcely ever meet. But these did, and the meeting was both a collision and an enrichment. Taken together, these engrossing characters personify a volatile decade in the life of New York. Perhaps best of all, the city itself is a living complex, and dynamic character in its own right. What a fine first effort for Victoria Lustbader." –Anne Rivers Siddon





"Engrossing characters personify a volatile decade in the life of New York [which] is a dynamic character in its own right."




"Masterfully, with utmost compassion, Lustbader writes of families suffering the pangs of growth while searching for grace."
Book Videos
Advertisement