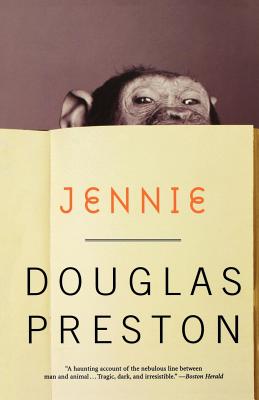 Jennie (Paperback)
Forge Books, 9780765315618, 320pp.
Publication Date: February 21, 2006
* Individual store prices may vary.
Description
On a research trip to West Africa, Dr. Hugo Archibald of the Boston Museum of Natural History encounters an orphaned baby chimpanzee. Archibald decides to bring the ape, whom he names Jennie, back to Boston and raise her alongside his own two young children as a kind of scientific experiment.
Jennie captures the hearts of everyone she encounters. She believes herself to be a human being. She does almost everything a human child can, from riding a tricycle to fighting over the television with her siblings to communicating in American Sign Language.
Told from shifting points of view of those closest to Jennie, this heartwarming and bittersweet novel forces us to take a closer look at the species that shares 98 percent of our DNA and ask ourselves the question: What does it really mean to be human?
Douglas Preston's Jennie, based on the real story of the chimpanzee who inspired Curious George, is the celebrated novel that was made into the award-winning Disney television film The Jennie Project. It was translated into many languages and became a worldwide bestseller.
About the Author
Douglas Preston is the co-author with Lincoln Child of the celebrated Pendergast series of novels, including such bestselling titles as Fever Dream, The Book of the Dead, The Wheel of Darkness, and Relic, which became a number one box office hit movie. His solo novels include the New York Times bestsellers Impact, Blasphemy, The Codex, and Tyrannosaur Canyon. Preston is an expert long-distance horseman, a member of the elite Long Riders Guild, and a Fellow of the Royal Geographical Society. He has travelled to remote parts of the world as an archaeological correspondent for The New Yorker. He also worked as an editor and writer at the American Museum of Natural History in New York and taught nonfiction writing at Princeton University. Preston is on the Board of Directors for International Thriller Writers, and serves on the Governing Council of the Authors Guild.
Praise For Jennie…
"Engaging and touching . . . A remarkable book." —The Denver Post on Jennie
"Brilliant and complex. Jennie is a dazzling fiction debut." —Los Angeles Times
"A poignant, thought-provoking story." —The Wall Street Journal
"A haunting account of the nebulous line between man and animal. . . . Tragic, dark, irresistible." —Boston Herald
"I love Jennie, the book and the chimp . . . a very remarkable person and a very important book." —Jane Goodall, bestselling author of In the Shadow of Man
"An amazing story." —Entertainment Weekly
"Engrossing story of a chimp experiment . . . Jennie is a believable character, both hilarious and heart-breaking." —Cleveland Plain Dealer
"An enchanting morality tale in which genes and evolution replace fates of ancient tragedy. . . . Preston sticks to scientific fact and so it's to his credit that he reader finds himself asking 'Is Jennie human?' and to the end is never convinced that she is not." —Dallas Morning News