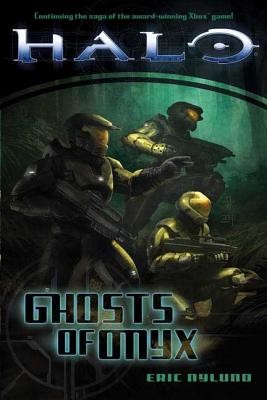 Ghosts of Onyx (Paperback)
Tor Books, 9780765315687, 383pp.
Publication Date: October 31, 2006
Description
The Spartan-II program has gone public. Tales of super-soldiers fending off thousands of Covenant attacks have become the stuff of legend.
But just how many Spartans are left?
While the Master Chief defends a besieged Earth, and the myriad factions of the Covenant continue their crusade to eliminate humanity, an ultrasecret cell of the Office of Naval Intelligence known as "Section Three" devises a plan to buy the UNSC vital time. They're going to need hundreds of willing soldiers, though . . . and one more Spartan to get the job done.
The planet Onyx is virtually abandoned and the perfect place to set this new plan in motion. But when the Master Chief destroys Halo, something is triggered deep within Onyx: Ancient Forerunner technology stirs, and fleets of UNSC and Covenant race to claim it to change the course of the Human-Covenant War.
But this reawakened and ancient force may have plans of its own . . .
About the Author
Eric Nylund has a Bachelor's degree in chemistry and a Master's degree in chemical physics. His novels include: virtual reality thrillers A Signal Shattered and Signal To Noise; contemporary fantasy novels Pawn's Dream and Dry Water (nominated for the 1997 World Fantasy Award); and the science fantasy novel A Game of Universe, as well as Halo: The Fall of Reach and Halo: First Strike. Nylund attended the 1994 Clarion West Writer's Workshop. He lives near Seattle on a rain-drenched mountain with his wife, Syne Mitchell. Jonathan Davis has narrated numerous audiobooks, receiving widespread critical acclaim for his performances in a variety of genres including an Audie Award nomination in the Thriller/Suspense category for his narration of Michael Gruber's Night of the Jaguar. His work includes The Stranger, The Brief and Wondrous Life of Oscar Wao, Battlestar Galactica, Halo: Ghosts of Onyx, and Atherton. His performance in Naked Statistics by Charles Wheelan won an Audie nomination in 2014. He has also narrated over thirty Star Wars titles, including Attack of the Clones, Revenge of the Sith and Dark Lord. Davis gave voice to Vladimir Lem, one of the central figures in the video game "Max Payne 2: The Fall of Max Payne," which won several Editors Choice Awards.
Book Videos
Advertisement