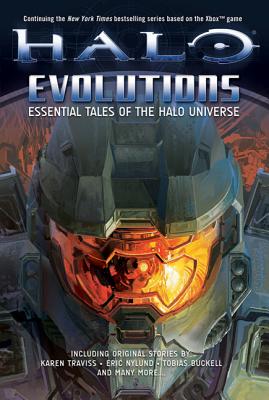 Halo
Evolutions: Essential Tales of the Halo Universe
Paperback

* Individual store prices may vary.
Other Editions of This Title:
Hardcover (11/24/2009)
Description
When humanity expanded beyond the safety of Earth to new stars and horizons, they never dreamed what dangers they would encounter there. When the alien juggernaut known as the Covenant declared holy war upon the fragile human empire, millions of lives were lost—but, millions of heroes rose to the challenge. In such a far-reaching conflict, not many of the stories of these heroes, both human and alien, have a chance to become legend. This collection holds eleven stories that dive into the depths of the vast Halo universe, not only from the perspective of those who fought and died to save humanity, but also those who vowed to wipe humanity out of existence.
Tor Books, 9780765315731, 528pp.
Publication Date: November 24, 2009
About the Author
Tobias S. Buckell is the author of several novels including Halo: The Cole Protocol, Arctic Rising, Sly Mongoose, Ragamuffin, and Crystal Rain. His books have been finalists for the Nebula Award, the Prometheus Award, and the Romantic Times Award for Best Science Fiction Novel. He hails from the Caribbean, where as a child he lived on boats in Grenada and the British and U.S. Virgin Islands. When he was a teenager, his family moved to Ohio after a series of hurricanes destroyed the boat they were living on, and he attended Bluffton University in Bluffton, Ohio, where he still lives today. Buckell fell in love with science fiction at a young age, reading Arthur C. Clarke and Isaac Asimov novels when he was seven years old. He is now a full-time author and freelancer.

BRIAN EVENSON is the author of a dozen books of fiction, including the story collections A Collapse of Horses (Coffee House Press, 2016), Windeye (Coffee House Press 2012) and the novel Immobility (Tor 2012), the latter two of which were finalists for a Shirley Jackson Award. His novel Last Days won the American Library Association's award for Best Horror Novel of 2009). His novel The Open Curtain (Coffee House Press) was a finalist for an Edgar Award and an International Horror Guild Award.

#1 New York Times best-selling novelist, scriptwriter and comics author Karen Traviss has received critical acclaim for her award-nominated Wess'har series, as well as regularly hitting the bestseller lists with her Halo, Gears of War, and Star Wars work. A former defense correspondent and TV and newspaper journalist, she lives in Wiltshire, England.

Jeff VanderMeer's New York Times bestselling Southern Reach trilogy has been translated into over 35 languages. The first novel, Annihilation, won the Nebula Award and Shirley Jackson Award, was shortlisted for a half dozen more, and has been made into a movie. His novel, Borne, is the first release from Farrar, Straus and Giroux's new MCD imprint and has received wide critical acclaim, including a rare trifecta of rave review from the New York Times, Los Angeles Times, and the Washington Post. The novel has also been optioned by Paramount and it continues to explore themes related to the environment, animals, and our future. The New Yorker has called Jeff "the weird Thoreau" and he frequently speaks about issues related to climate change and storytelling, including at DePaul, MIT, and the Guggenheim. He lives in Tallahassee, Florida.

Eric Nylund is the author of Halo: The Fall of Reach, Halo: First Strike, and Halo: Ghosts of Onyx, as well as the epic mythology series beginning with Mortal Coils and All That Lives Must Die, and The Resisters series for middle-grade readers. Born in the Los Angeles area, Nylund grew up in the mountains and pine forests of Truckee, California, and the Joshua trees and rattlesnakes of the Mojave Desert. He earned degrees in chemistry at U.C. Santa Barbara and U.C. San Diego before leaving his Ph.D. program to become a writer. Besides writing his novels, he is the Director of Narrative Design at Microsoft Game Studios. He lives near Seattle on a rain-drenched mountain with his wife, Syne Mitchell, and their son.
or
Not Currently Available for Direct Purchase