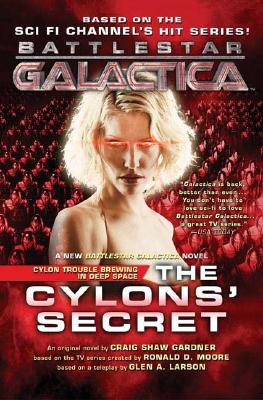 The Cylons' Secret
Battlestar Galactica 2
Hardcover

* Individual store prices may vary.
Other Editions of This Title:
Digital Audiobook (8/21/2006)
Paperback (8/22/2006)
Mass Market Paperback (3/1/2007)
Description
Sometimes no news is bad news.

It's been twenty years since the end of the Cylon war. The twelve human colony worlds are rebuilding, and the Cylons . . . the Cylons have been just too quiet. They are nowhere to be found. The robotic race that tried to obliterate their creators has gone to parts unknown in deep space.

The aftermath of the war has created a new, illegal profession: scavenger. Tom Zarek is one, scouring the outer settlements for valuable Cylon technologies and artifacts and usually returning empty-handed. But now, he and the crew of the Cruiser Lightning have found the Omega Station, a scientific station shrouded in secrecy beyond the edge of charted space. This is it, the big score, except something is wrong…the base is still occupied, not by humans alone; by Cylons too!

The Battlestar Galactica, one of the oldest warships in the fleet, receives the Lightning's distress call, a cryptic one-word message: "Cylons." William Adama, newly promoted to second-in-command, is worried. Most of his crew are green, new recruits, not prepared for anything but the most routine missions. And, as Adama soon discovers, this mission is anything but routine. Omega is indeed full of Cylons, but also something much more disturbing . . .
Praise For The Cylons' Secret: Battlestar Galactica 2…
Praise for the Battlestar Galactica TV series:

"This story of enemies within is dead serious, and seriously good."
--James Poniewozik, Time Magazine

"It's all been said before, but I'll say it again: Battlestar Galactica is much, much better than you can possibly imagine. The battle scenes are claustrophobic and paranoia-inducing; the power struggles are complicated and nuanced like the ones you find on "The Sopranos;" the stakes are always high, and there's an incredible amount of action in each episode."
--salon.com

"An intensely suspenseful journey of survival … gripping, scary, and well worth staying home on Fridays to watch … TV's most provocative fantasy adventure …"
--TV Guide "Roush Rave"

"Rapidly shaping up to be the most influential Science Fiction series since Babylon 5 and the original Star Trek."
--TV Zone magazine

"Serious and sexy, Battlestar Galactica is the best sci fi on TV."
--CFQ (Cinefantastique)

"…this Battlestar is smart enough and entertaining enough to win you over."
--Robert Bianco, USA Today

"With its hot, androgynous heroine leading the remnants of humanity against evil, God-fearing robots, Battlestar Galactica is boldy re-creating sci-fi TV."
--salon.com

"Galactica is back, better than ever . . . You don't have to love sci-fi to love Battlestar Galactica. . . a great TV series."
--USA Today
Tor Books, 9780765315786, 304pp.
Publication Date: August 22, 2006
About the Author
Craig Shaw Gardner is the author of more than 30 books and 50 short stories, including the novels A Malady of Magicks, Dragon Sleeping, and the New York Times bestselling novelization of "Batman Returns." He lives in Arlington, Massachusetts with his wife and the two cats that run their lives.
or
Not Currently Available for Direct Purchase