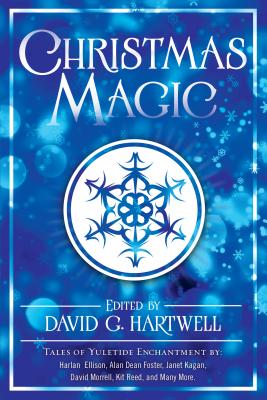 Christmas Magic (Paperback)
Short Stories from Award-Winning Fantasy Writers
Tor Books, 9780765315809, 496pp.
Publication Date: November 1, 2016
* Individual store prices may vary.
Description
Collected by award-winning anthologist David G. Hartwell, here is a stockingful of classic Christmas fantasies
Wonders abound at Christmas, and never more so than in this delightful collection of holiday stories by some of today's most gifted writers of fantasy and science-fiction. In this volume, Harlan Ellison, Alan Dean Foster, Kit Reed, Howard Waldrop, Donald Westlake, and many other science fiction and fantasy stars present their unique visions of Christmas.
Toys come to life for one miraculous hour. A little girl sets forth on a quest to join Santa's elves. Talking animals, away in a manger, bring two lovers together, and a small boy discovers the secret of Santa's tenth reindeer. These and other stories raise Christmas spirits to fantastic new heights, and find unexpected twists and surprises in even the oldest of holiday traditions.
Sorcery comes gift wrapped this year, and just in time for Christmas Magic.
About the Author
David G. Hartwell, called "an editor extraordinaire" by Publishers Weekly, is one of science fiction's most experienced and influential editors. As an editor with Berkley Books, Pocket Books, William Morrow, and Tor Books, he has worked with many of the field's best authors and edited many award-winning works. He is the author of Age of Wonders, a nonfiction study of the science fiction field. Among his many anthologies are the bestselling World Treasury of Science Fiction and the World Fantasy Award winner The Dark Descent. He is the holder of a Ph.D. in comparative literature from Columbia University, a winner of the Eaton Award, and has won three Hugo Awards for his editorial work.