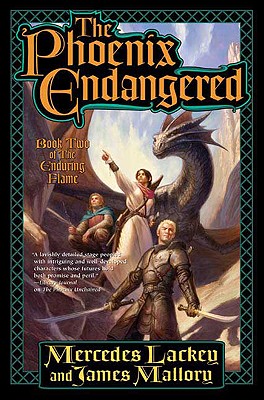 The Phoenix Endangered (Hardcover)
Book Two of The Enduring Flame
Tor Books, 9780765315946, 416pp.
Publication Date: September 16, 2008
* Individual store prices may vary.
or
Not Currently Available for Direct Purchase
Description
In The Phoenix Endangered, second in The Enduring Flame, Tiercel, a budding High Mage, and Harrier, a reluctant Knight-Mage, develop greater power—and learn of the evils of war when they see the devastation caused by the fanatical armies of the Wild Mage Bisochim.
The desert tribespeople led by young Shaiara flee Bisochim's evil, seeking a legendary oasis deep in the desert—a refuge that may hold the key to stopping Bisochim and preserving the Balance between Light and Darkness . . . or that may be the cause of Light's ultimate downfall.
About the Author
Mercedes Lackey is the author of the bestselling Valdemar series, the Tales of the Five Hundred Kingdoms, and, also with James Mallory, the Obsidian Trilogy ("The Outstretched Shadow," "To Light a Candle," and "When Darkness Falls") and the Enduring Flame Trilogy ("The Phoenix Unchained," "The Phoenix Endangered," and "The Phoenix Transformed"). She has written many other books, including "Trio of Sorcery," "Phoenyx and Ashes," "Sacred Ground," "The Firebird," "The Fairy Godmother," and "Alta." Lackey is the co-author, with Andre Norton, of the Halfblood Chronicles, including "Elvenborn." Mercedes Lackey was born in Chicago and graduated from Purdue University. She has worked as an artist's model, a computer programmer, and for American Airlines, and has written lyrics and recorded more than fifty songs. She lives in Oklahoma. James Mallory is author of the three-part novelization of the Hallmark Merlin miniseries: "The Old Magic," "The King's Wizard," and "The End of Magic." He was born in San Francisco and attended schools in California and the Midwest, before moving to New York to pursue a career in writing. From an early age, he has been fascinated with the Arthurian legends, an avocation which triggered a lifelong interest in fantasy literature. He lives in California.
Praise For The Phoenix Endangered: Book Two of The Enduring Flame…
"Entertaining. . . . This beguiling beginning promises a highly readable epic combining vivid characterization with an interesting exploration of how past heroics are twisted over centuries into something both more and less than they were."
--Publishers Weekly on The Phoenix Unchained
"Sets a lavishly detailed stage peopled with intriguing and well-developed characters whose futures hold both promise and peril."
--Library Journal on The Phoenix Unchained
Advertisement