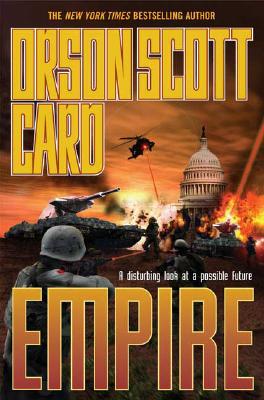 Empire (Hardcover)
Tor Books, 9780765316110, 352pp.
Publication Date: November 28, 2006
* Individual store prices may vary.
Description
The American Empire has grown too fast, and the fault lines at home are stressed to the breaking point. The war of words between Right and Left has collapsed into a shooting war, though most people just want to be left alone.

The battle rages between the high-technology weapons on one side, and militia foot-soldiers on the other, devastating the cities, and overrunning the countryside. But the vast majority, who only want the killing to stop and the nation to return to more peaceful days, have technology, weapons and strategic geniuses of their own.

When the American dream shatters into violence, who can hold the people and the government together? And which side will you be on?

Orson Scott Card is a master storyteller, who has earned millions of fans and reams of praise for his previous science fiction and fantasy novels. Now he steps a little closer to the present day with this chilling look at a near future scenario of a new American Civil War.
About the Author
Orson Scott Card is the author of the novels "Ender's Game," "Ender's Shadow," and "Speaker for the Dead." "Ender's Game" and "Speaker for the Dead" both won Hugo and Nebula Awards, making Card the only author to win these two top prizes in consecutive years. There are seven other novels to date in The Ender Universe series. Card has also written fantasy: "The Tales of Alvin Maker" is a series of fantasy novels set in frontier America; his most recent novel, "The Lost Gate," is a contemporary magical fantasy. Card has written many other stand-alone sf and fantasy novels, as well as movie tie-ins and games, and publishes an internet-based science fiction and fantasy magazine, "Orson Scott Card's Intergalactic Medicine Show." Card was born in Washington and grew up in California, Arizona, and Utah. He served a mission for the LDS Church in Brazil in the early 1970s. Besides his writing, Card directs plays and teaches writing and literature at Southern Virginia University. He lives in Greensboro, North Carolina, with his wife, Kristine Allen Card, and youngest daughter, Zina Margaret.
Praise For Empire…
"There is no denying the power of his storytelling, and the vision. There is no chance that this commercial House of Card will topple." --SF Commentary "Card's latest installment in his Shadow subseries (Ender's Shadow , etc.), which parallels the overarching series that began with Ender's Game (1985), does a superlative job of dramatically portraying the maturing process of child into adult. … Now, as young adults in command of human armies pitted against each other in messy conflicts with no clear solutions, Bean's old cohorts must help create a peaceful future for Earth after they're gone. Card makes the important point that there's always more than one side to every issue. Fans will marvel at how subtly he has prepared for the clever resolution." -- Publishers Weekly (Starred Review) on Shadow of the Giant
Book Videos
or
Not Currently Available for Direct Purchase