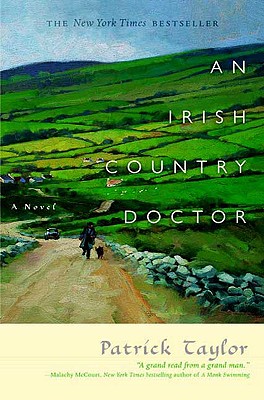 An Irish Country Doctor
Hardcover

* Individual store prices may vary.
Other Editions of This Title:
Digital Audiobook (6/8/2009)
Paperback (1/22/2008)
Mass Market (8/2/2011)
CD-Audio (6/9/2009)
Description
Barry Laverty, M.B., can barely find the village of Ballybucklebo on a map when he first sets out to seek gainful employment there, but already he knows that there is nowhere he would rather live than in the emerald hills and dales of Northern Ireland. The proud owner of a spanking-new medical degree and little else in the way of worldly possessions, Barry jumps at the chance to secure a position as an assistant in a small rural practice.
At least until he meets Dr. Fingal Flahertie O'Reilly.
The older physician, whose motto is to never let the patients get the upper hand, has his own way of doing things. At first, Barry can't decide if the pugnacious O'Reilly is the biggest charlatan he has ever met, or the best teacher he could ever hope for. Through O'Reilly Barry soon gets to know all of the village's colorful and endearing residents, including:
A malingering Major and his equally hypochondriacal wife;
An unwed servant girl, who refuses to divulge the father of her upcoming baby;
A slightly daft old couple unable to marry for lack of a roof;
And a host of other eccentric characters who make every day an education for the inexperienced young doctor.
Ballybucklebo is long way from Belfast, and Barry is quick to discover that he still has a lot to learn about the quirks and traditions of country life. But with pluck and compassion and only the slightest touch of blarney, he will find out more about life--and love--than he ever imagined back in medical school.
"An Irish Country Doctor" is a charming and engrossing tale that will captivate readers from the very first page--and leave them yearning to visit the Irish countryside of days gone by.
Praise For An Irish Country Doctor…
"Patrick Taylor, MD, is a man of words and he is a healing physician, too. Do not be deceived by the title on the cover as the book is only incidentally an Irish location - it deals with eccentric, funny humans, dogs, cats and cattle. This book is written with compassion and hilarity about a community whose inhabitants are as wonderful and loony as any on earth. The doctor's patients are not simply out-of-order machines, they are living human beings who need love and reassurance, which the good doctor freely dispenses. A grand read from a grand man"--Malachy McCourt, New York Times bestselling author of A Monk Swimming

"At last! Here is an authentic Northern Ireland voice telling down-to-earth stories that could happened anywhere on the island. A full cupboard of delightful characters, both human and animal, enrich every page. Quirky, funny, and deeply moving by turns, Taylor's writing perfectly captures the language and character of Ulster in times gone by. I promise you will enjoy this book immensely; I did."--Morgan Llywelyn, New York Times bestselling author of The Last Prince of Ireland

"In a style joyously reminiscent of James Herriot, Dr. Taylor conjures up the rural Irish town of Ballybucklebo that is a pleasure to visit and very difficult to leave. I had a hoot following the humorous and at time poignant exploits of the irascible family doctor, Fingal O'Reilly, and his young, wide-eyed (and very urban) apprentice, Barry Laverty, as they confront all manner of man and beast in the eccentric but lovable town. I can hardly wait for more."--Daniel Kalla, international bestselling author of Rage Therapy

"Wraps you in the sensations of a vanished time and place. Like Barry Laverty [the hero of the novel] you join the household. You meet his eccentric housekeeper, Kinky (short for 'Mrs. Kinkaid'), who tends to come bustling in with a tray, saying things like: 'Tea, and bit of toasted, buttered barmbrack.'"--Vancouver Sun

"With an unerring eye for detail, the talents of a natural storyteller and the ability to pepper his anecdotes with large doses of wit and humor, Patrick Taylor has written a delightful novel…the lives of the engaging and eccentric townspeople, whose hilarious mishaps provide a perfect foil for the endeavors of the town's medical men."--Calgary Herald
Forge Books, 9780765316233, 352pp.
Publication Date: February 6, 2007
About the Author
Patrick Taylor, M.D., is the author of the Irish Country books, including "An Irish Country Village," "An Irish Country Christmas," "An Irish Country Girl," and "An Irish Country Courtship." Taylor was born and raised in Bangor County Down in Northern Ireland. After qualifying as a specialist in 1969, he worked in Canada for thirty-one years. He now lives on Saltspring Island, British Columbia.
Book Videos
or
Not Currently Available for Direct Purchase