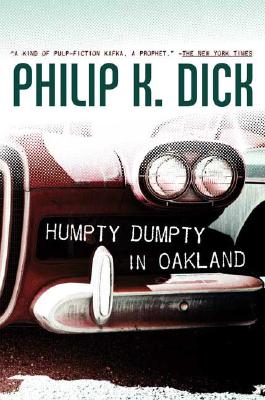 Humpty Dumpty in Oakland (Hardcover)
Tor Books, 9780765316905, 256pp.
Publication Date: October 2, 2007
Other Editions of This Title:
Paperback (9/30/2008)
Compact Disc (3/1/2014)
MP3 CD (8/18/2015)
Compact Disc (3/1/2014)
MP3 CD (3/1/2014)
* Individual store prices may vary.
Description
Set in San Francisco in the late 1950s, Humpty Dumpty in Oakland is a tragicomedy of misunderstandings among used car dealers and real-estate salesmen: the small-time, struggling individuals for whom Philip K.Dick always reserved his greatest sympathy. Jim Fergesson is an elderly garage owner with a heart condition, who is about to retire; Al Miller is a somewhat feckless mechanic who sublets part of Jim's lot and finds his livelihood threatened by the decision to sell; Chris Harman is a record-company owner who for years has relied on Fergesson to maintain his cars. When Harman hears of Fergesson's impending retirement he tips him off to what he says is a cast-iron business proposition: a development in nearby Marin County with an opening for a garage. Al Miller is convinced that Harman is a crook, out to fleece Fergesson of his life's savings. As much as he resents Fergesson he can't bear to see it happen and--denying to himself all the time what he is doing--he sets out to thwart Harman.
About the Author
PHILIP K. DICK has had nine movies based on his stories made, including the classic, "Blade Runner." Prior to his death in 1982, Dick lived in California.
Praise For Humpty Dumpty in Oakland…
"A kind of pulp-fiction Kafka, a prophet." --The New York Times "Remarkable. . .echoes of Dick's contemporaries such as Ralph Ellison, Richard Yates, Rod Serling, Raymond Chandler and early Kurt Vonnegut Jr. resonate, and a bonus exists in Dick's impeccable eye for detail. . . .Dick fans will be in rapture." --Publishers Weekly [boxed review] on Voices from the Street
"He reworks the territory of soured domesticity (à la Richard Yates and John Updike) in a working-class milieu anticipating Raymond Carver. Decades later, his oeuvre (like Philip Roth's) is lovingly enshrined in our national pantheon." -LA Times

"It may be hard for some to accept that the same writer who recently snuck into the American canon as a visionary and paranoid pop surrealist also penned a half dozen or more proletarian-realist novels set in the California of the '50's and early '60's, the best of which occupy a region demarcated by Richard Yates on one side and Charles Willeford on another. But accept it." --Jonathan Lethem
"Well written, it is a welcome addition to its authors' large and brilliant canon." --Booklist on Voices from the Street
or
Not Currently Available for Direct Purchase