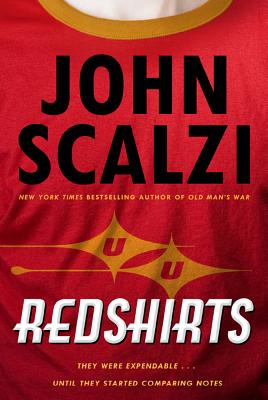 Redshirts (Hardcover)
Tor Books, 9780765316998, 320pp.
Publication Date: June 5, 2012
Description
Ensign Andrew Dahl has just been assigned to the Universal Union Capital Ship "Intrepid," flagship of the Universal Union since the year 2456. It's a prestige posting, and Andrew is thrilled all the more to be assigned to the ship's Xenobiology laboratory.
Life couldn't be better until Andrew begins to pick up on the fact that (1) every Away Mission involves some kind of lethal confrontation with alien forces, (2) the ship's captain, its chief science officer, and the handsome Lieutenant Kerensky always survive these confrontations, and (3) at least one low-ranked crew member is, sadly, always killed.
Not surprisingly, a great deal of energy below decks is expendedon avoiding, at all costs, being assigned to an Away Mission. Then Andrew stumbles on information that completely transforms his and his colleagues' understanding of what the starship "Intrepid "really is and offers them a crazy, high-risk chance to save their own lives.
"Redshirts" is the winner of the 2013 Hugo Award for Best Novel.
About the Author
JOHN SCALZI is the author of several SF novels including the bestselling Old Man's War sequence, comprising Old Man's War, The Ghost Brigades, and the New York Times bestselling The Last Colony. He is a winner of science fiction's John W. Campbell Award for Best New Writer, and he won the Hugo Award for Your Hate Mail Will Be Graded, a collection of essays from his popular blog Whatever. His latest novel, Fuzzy Nation, hit the New York Times bestseller list in its first week on sale. He lives in Ohio with his wife and daughter.
Praise For Redshirts…
"Gripping… A perfectly executed plot clicks its way to a stunningcourtroom showdown in a cathartic finish."
—Publishers Weekly, starred review, on Fuzzy Nation

" In a genre flooded with bloated epics, it's a real pleasure toread a story like this, as compactly and directly told as a punchto the stomach."
—Kirkus Reviews, starred review, on Fuzzy Nation

" If Stephen King were to try his hand at science fiction, he'd belucky to be half as entertaining as John Scalzi."
—Dallas Morning News on The Ghost Brigades

" Scalzi's captivating blend of offworld adventure and political intrigue remains consistently engaging." —Booklist on The Last Colony
Advertisement